Reading is one of the best ways to learn a language, and Spanish books for beginners are an important part of any home or classroom library.
Of course, there are many kinds of beginning learners. Are you a parent with children learning Spanish, or an independent adult learner improving your language skills? Maybe you're a student who is motivated to do some extra learning on your own. There are a variety of books for beginning learners, and what is right for your situation will depend on your age and interests.
Below you will find:
Recommendations for young adults and adult learners
Suggested reading for children learning Spanish
8 Free downloads of PDF books for beginners
Benefits of Reading in Spanish
There is no doubt that reading is one of the best ways to build vocabulary and acquire language. This is because:
You can read at your own pace. Unlike a conversation, with a book you can go back, re-read, and process how the language is used.
As you read, you encounter words in context. This makes vocabulary easier to remember and also gives you a more complete understanding of how to use a word.
Readers can choose books that fit their interests. Making language relevant is key to learning.
Choosing Spanish Books for Beginners
What should beginning language learners read?  At the university level, where I taught for 25 years, there is a tradition of teaching literature from Spain and Latin America. I love literature, but I don't think it is the best choice for beginning learners.
My colleagues spent a lot of time talking about strategies like reading for the main idea, or deriving meaning from context, but would then assign short stories that made those strategies impossible to apply. The whole point of a short story is that they are concise and every word counts. Often, they turn on a single phrase. That makes for great literature, but not always the best learning experience.
Likewise, there is a tendency to want to teach classics like El principito and Don Quixote. Again, there is no doubt these books are worth reading, but readers will get much more out of them if they wait to read them until they have more facility with the language.
So, what are the right Spanish books for beginners? Again, it depends on age and interests, but these are a few things to consider.
I encourage beginning readers to look for:
A plot-driven story with action, objects and dialog rather than abstract ideas and descriptive language.
A story with dialog. After all, we all want to learn to speak a language, and reading dialog is perfect. Plays are an excellent choice for this reason.
Relatively short sentences with high-frequency vocabulary.
Support for language such illustrations, glossing, a glossary or even video.
TPRS Novels and Leveled Readers
Comprehensible input novels or TRPS novels and leveled readers tell interesting stories with a reduced number of unique words. They build in repetition and high-frequency vocabulary, and also have support like glossing of new words (definitions in the footnotes) and glossaries.  These books are available at a range of levels.
If you're a teacher, there is a lot of information about teaching comprehensible input online, and a quickly growing collection of books available. If you're an independent learner, these books are entertaining and effective, and they are definitely worth checking out.
TPRS Novels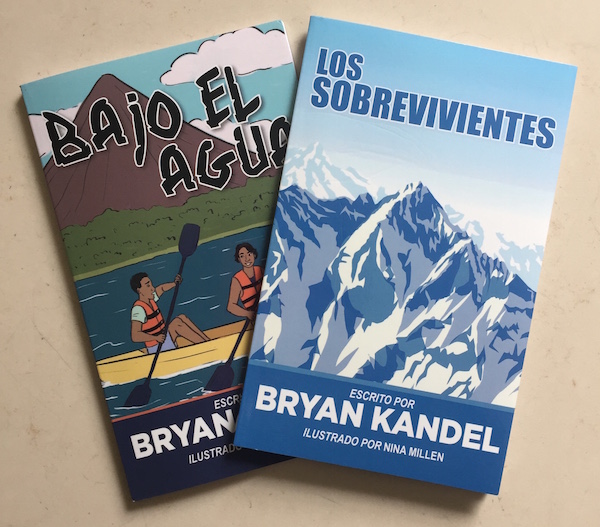 There are many TPRS Spanish novels available on Amazon. Take a look at the "Look Inside" feature to get an idea of the level.
You can also read about two Spanish comprehensible input novels by Bryan Kandel and get the author's perspective on why reading is so important to language learning.
Leveled Readers as Spanish Books for Beginners
Leveled readers are novels or a collection of short readings with a glossary or glossing in the footnotes. They have carefully selected vocabulary and are an excellent option for Spanish books for beginners. For example, check out the selection of leveled readers from Teacher's Discovery.
Enhanced Readers
In a brand new concept, Teacher's Discovery has also just published three enhanced readers. These books have QR codes on the pages that link to video. The videos have the characters giving background about themselves or a dialogue from the books.
In addition, these enhanced readers are written to develop language skills. There is repetition of high-frequency vocabulary and a glossary to provide the support novice learners need.
As I said, these books are brand new, but I am thrilled by the creative way Teacher's Discovery is using technology to support language learning.
Choosing a Spanish Book for Children
With you are working with children, there are other considerations. Most important, Spanish books for children should have illustrations or photographs that create comprehensible input.
Check out our Spanish Books for Kids page for a range of picture books from favorite publishers.
Children's Books for Beginners in PDF
You can find lots of downloadable Spanish books online. Many of these are for children, but there are books available for all ages.
I make books for my classes because I can control the vocabulary and structures and create a strong text-to-picture correspondence.
PDFs are convenient because you can download the books on any device. Here are instructions for putting PDFs on Apple devices or putting PDFs on Androids.
Of course, you can also print the books or read them on a desktop computer.
One of the advantages of creating my own Spanish books for beginners is that I can use the same photos and vary the text to create different reading experiences. Here are a few examples and downloads.
These are a few of the books are included in the set:
Animals in the Snow
I used photos of animals in the snow and created three different levels of text.
The first two versions are to introduce readers to high-frequency verbs. First, ¡Hay mucha nieve! is a simple story with patterned sentences: Hay un perro en la nieve. Hay un gato en la nieve. Likewise, Les gusta la nieve uses patterned sentences with gustar: Al perro le gusta la nieve. Al gato le gusta la nieve.
In addition, there is a more difficult version with longer sentences and more text. The text goes beyond the photograph to include additional vocabulary.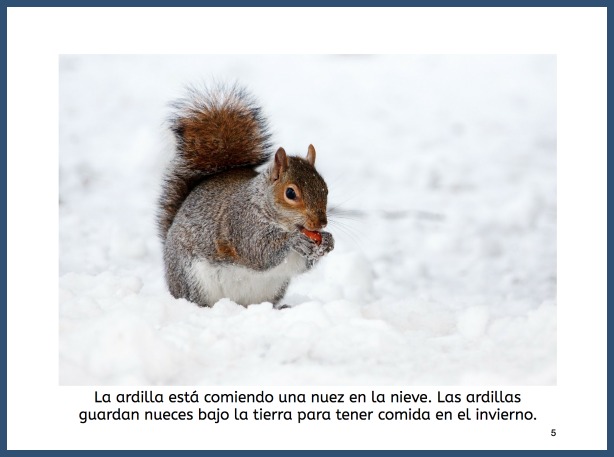 Cats in the House
I also loved the photos I had of cats in houses, so I made Spanish books for beginners at two levels.
The simplest version focuses on the verb estar and parts of the house with patterned sentences like El gato está en la cama and El gato está en la mesa. The photos exactly support the language, so this book is great for new learners.
Again, the more difficult version includes the same first sentence about where the cat is, and then incorporates more vocabulary by describing the cat or the place.
Spanish Books for Beginners with Vocabulary Themes
Another reason to make Spanish books for beginners is that you can target specific vocabulary. For example, Vamos a contar frutas and Me gustan los animales introduce children to animals and fruit. Again, they use patterns and the photos support the text.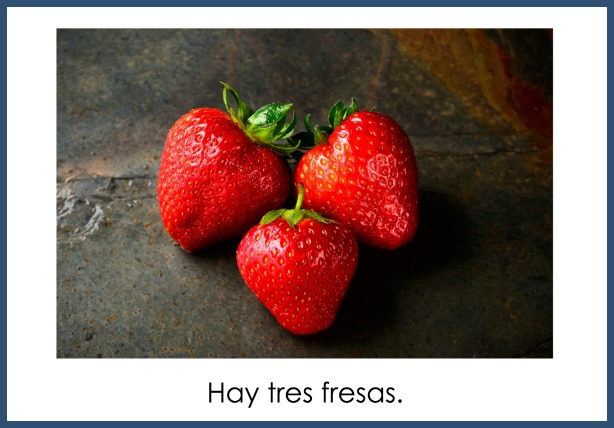 Buena Gente eBook
If you're working with older students or an independent learner, than you might like the ebook based on the Buena Gente video series. You can find Episode 1 here and the other books are coming soon.
Early Readers as Spanish Books for Beginners
Early readers are also a great choice for beginners. These books have short sentences, minimal description and illustrations to support the text. They are often more accessible than picture books, with simple story lines. I've had good luck with early readers as Spanish books for beginners at a wide range of ages.
Some of our favorites are excellent translations of classics such as the Little Bear books.
You can also check out Green Light Readers in Spanish and My first I Can Read books in Spanish from Harper Collins
We have included several early readers on our Spanish Books for Kids Book List.
Reading in Spanish is essential for developing complete language skills, and it is also a window into history and culture. It is important to start with books at the correct level so that reading is enjoyable and not overwhelming.
Fortunately, there are many excellent Spanish books for beginners available for a range of ages and interests. Select from picture books, free PDFs, leveled readers and novels to find the books that are right for your needs.