This is a list of Spanish book lists for kids. A list of lists? That's right! Evaluating books online is tricky, and books are expensive. So, I turn to teachers and parents I trust to give me a starting place when I need new titles. Scroll down for some of the best Spanish book lists for kids!
Be sure to check out our Spanish Books for Kids Resource Page for reviews and activities for favorite books.
One of the reasons I depend on Spanish book lists for kids is that online shopping is hard! Once you find a book, "see inside" on Amazon is great. However, that feature is not always available, and you have to find the book first!
Unfortunately, the search feature for Spanish books on Amazon is not very good. Many Spanish and bilingual books don't show in search results unless you search by title. How do you look for a book that you don't know exists?  First, you find titles in Spanish book lists for kids!
Finding Spanish Books for Kids
I do have another go-to strategy for finding books. You can read about it here: How to Find Children's Books in Spanish in One Easy Step.  As you'll see, I explain how to search by Spanish language publisher, and I mention my favorite publishers in that post.
I also compiled my tried and true favorite titles on our list of Spanish Books for Kids. I made the list for our Spanish summer reading program, and those are books I go back to again and again.
However, I know there are more fabulous titles out there, and kids need lots of books! The selection of Spanish language children's literature available in the U.S. is growing, and there are new publishers and authors to discover. So, I turn to educators and parents who share what they love in Spanish book lists for kids.
In addition to finding new titles, I love Spanish book lists for kids because they often include personal reflections on reading a story and a child's reaction. Sometimes, you can get an idea of the illustrations if there are photos, and you might find extension activities too.
So, here are some Spanish book lists for kids to get you started. The lists include Spanish language and bilingual titles, as well as English books with integrated Spanish. There are also books in English with strong connections to Spanish-speaking cultures.
Big Spanish Book Lists for Kids
These extensive lists are amazing resources!  They have lots of titles, and span various themes and ages. You can return to these lists as kids grow and their interests change.
Spanish Mama
This educator mom shares tons of helpful resources on her wonderful blog Spanish Mama.
Her list of 50 authentic books is grouped by genre or theme: poetry and music, alphabet books, authentic Spanish fiction, folktales, classics and legends, biographies, culture and geography, and holidays and celebrations.
Authentic Spanish Books for Kids: 50 Of the Best Books – Spanish Mama
Hispanic Mama Spanish Book Lists for Kids
Hispanic Mama's Must-Have Bilingual Children's Books is a list of her themed collections. The master list has Spanish book lists grouped by holidays, people, places, and heritage. This is an excellent resource!
Must-Have Bilingual Children's Books – Hispanic Mama
For the Love of Spanish
Kali of For the Love of Spanish puts together fabulous lists for Spanish learners! She is is a teacher-mom-blogger, and she knows what works and what kids like. Her list 30+ Spanish Books for July is grouped into super fun themes: beach, ocean, frozen treats, mischief, fish, picnics and food, and lemonade!
July Spanish Booklist for Kids – For the Love of Spanish
For the Love of Spanish has more monthly lists, including a great list of Spanish-themed Christmas books. Kali also shares ideas for extending the learning in specific picture books. Check out her Learn Spanish With Books to find these posts and more.
Bilingual Kidspot
Kali from For the Love of Spanish also put together an extensive list for Bilingual Kidspot. As you can see, it covers a range of ages!
Spanish Books for Kids – Baby, Toddler, Child and Teen Books in Spanish.
Mundo de Pepita
The educator-creator of Mundo de Pepita makes an excellent summer reading list for elementary Spanish students. The list includes picture books and chapter books with Hispanic themes and characters. The goal of the list is to connect kids to their Spanish classes during the summer and involve families. You'll find lists for previous years, too. Don't miss the adorable, free printable bookmarks!
Summer Reading List for Elementary Spanish Students 2018 – Mundo de Pepita
Spanish Playground
These are some of my favorite titles. I originally created the list for our summer reading program, and it has books at a range of levels for kids of different ages. I include it here in case you missed it earlier.
Spanish Books for Kids: Book List – Spanish Playground
Themed Spanish Book Lists for Kids
I love themed lists that pull together books around a topic or age group. In addition to introducing me to new titles, they help me see familiar books in a different context.
Discovering the World Through My Son's Eyes
Frances of Discovering the World Through My Son's Eyes writes helpful reviews with specific information about the books. The books on her lists are usually ones she reads with her son. I love the themes she pulls together and her perspective!
Five-Must Read Chapter Books for Tweens by Latino Authors
Women in History Spanish Children's Books
Children's Books about Puerto Rico           
Spanish Chapter Books for Kids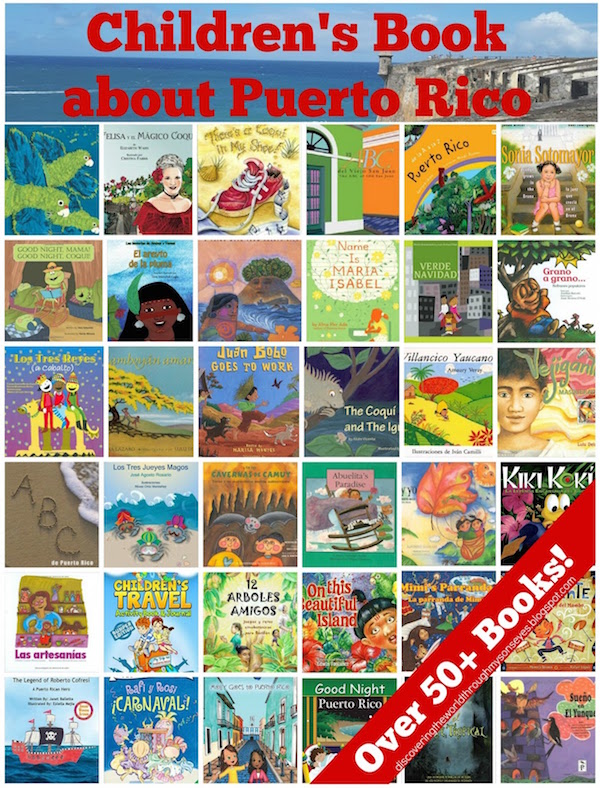 Mommy Maestra
Mommy Maestra is a homeschooling Latina mom and freelance education writer. She knows and loves children's literature! She has several excellent book lists grouped by age and theme.
10 Latino Books to Read to Your Preschooler
5 Latino Children's Books to Celebrate #EarthDay
3 Books of Spanish Poetry for Children
10 Children's Books About the Latino Immigration Experience
10 Latino Children's Books About Love and Friendship
All Done Monkey
All Done Monkey is a homeschooling mom of a multicultural, bilingual family. I have found wonderful new titles through her recommendations.
ArteKids: Bilingual Books to Discover Art with Young Children
New Bilingual Books for Kids of All Ages
Kid World Citizen
Kid World Citizen has a great list of pictures books for beginning Spanish learners. You'll also find tips for reading bilingual stories with kids.
Using Bilingual Stories to Teach Un Poquito de Español
Kid World Citizen also has a list of their favorite books by the wonderful author Pat Mora. Pat Mora is a prolific author, so favorite titles make a list! There is also a fun desert art activity related to two of the books.
Bilingual Books by Texas Author, Pat Mora
Reviews of Spanish Books for Kids
Of course, you can find parents and teachers sharing individual titles too.
For example, check out Bicultural Mama for reviews of La Princesa and the Pea, and Chocolate Milk Por Favor, and more.
Crafty Moms Share also has individual reviews like this one of a book about Celia Cruz and this post about Fairy Tales in Different Cultures.
Multicultural Children's Book Day is a fabulous resource for finding more bilingual or Spanish titles, as well as discovering many other diverse books. Check out this link up to over 500 reviews from Multicultural Children's Book Day 2018.
Consider a Spanish Book Box
Spanish book lists for kids are a huge help in finding new titles for your classroom or family. You can also let experts help you choose by trying a subscription box.
Booklandia tailors the books they send to your reader's interests and reading level. You can check them out at Booklandiabox.com.
Do you know of other Spanish book lists for kids that we can add to this list of lists? Please share in comments, so we can all continue to discover new titles for our young readers!