Body parts are some of the first words children learn in Spanish and there are lots of fun games to play with this vocabulary. Here are seven of our favorite Spanish body parts games.
You can also find body parts songs, videos, crafts and movement ideas in this collection of  Spanish Body Parts Activities.
Spanish Body Parts Board Games
These are printable board games, but there is plenty of action! Players follow instructions to do actions or answer questions for each square they land on. Playing these games kids practice body parts and also learn other high-frequency vocabulary.  There are two games at slightly different levels.
The first game uses body parts vocabulary in the questions, but kids do not have to produce it spontaneously. The game has choice questions, yes-no questions and instructions with actions.
In the second version, kids answer questions using body parts words as well as follow instructions with actions.
Get Mi cuerpo 1 (receptive language).
Get Mi cuerpo 2 (with some production).
Spanish Body Parts Bingo Games
Lotería, or bingo, is an excellent game for learning vocabulary. I made this version for a YMCA camp and it was a hit. There are 12 boards with Spanish body parts words as well as a few verbs like girar, bailar, saltar, and caminar. Get some action into the game by having kids touch the body parts or do the action when you call the word.
You can get Lotería – Las partes del cuerpo here.
Guess Who
Guess Who is another good game for learning Spanish face and body parts. Monarca language contributed this fun version of Guess Who with fruit monsters to Spanish Playground. You can find other printable versions of Guess Who with monsters that work well for parts of the body.
Spanish Body Parts Dice Games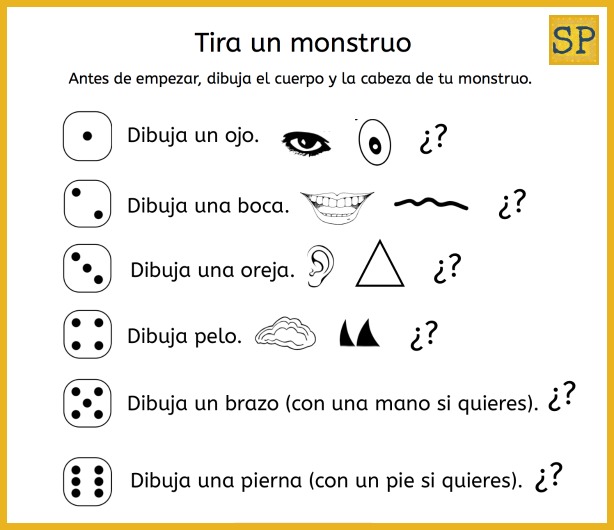 I made a roll-a-monster game to practice words for body parts in Spanish. Of course, there are lots of roll-the-dice printable games for faces and figures online. For example, this is a Roll-a-Picasso face game, and you can see a version of a roll-the-dice drawing game for more standard faces here.
Get my Tira un monstruo game.
Mr. Potato Head
I'm a member of Amazon's affiliate program. If you make a purchase using a link from my content, I am compensated.
You can use the classic Mr. Potato Head and Mrs. Potato Head (affiliate) toys to learn Spanish body parts. Simply assembling the toys and naming the parts is an excellent activity, and you can also play games. For example, you can put Mr, Potato Head together, then remove one part and have kids say what is missing.
You can also play with a die and specify which body part to put on for each number rolled. For example, 1 = ojos, 2- boca, etc. Play cooperatively to assemble Mr. Potato head by taking turns rolling. Or, if you have several toys, you can play to see who can put on all the parts first. When you roll a number you have already had, you don't add anything and have to wait for your next turn.
Simon Says in Spanish
Simon Says, or Simón dice in Spanish, teaches words for body parts. You can also use the game to practice verbs. Watch a fun video of how to play Simon Says in Spanish here.
Combine verbs with body parts to make other instructions such as Simón dice "cierra los ojos" (abre la boca, lávate las manos, cepíllate los dientes, pon las manos arriba, etc.)
Spanish Bean Bag Games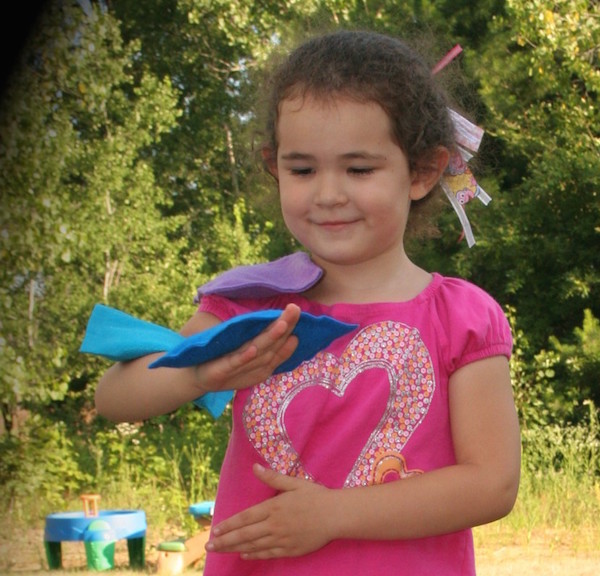 Bean bags or beanie animals are a fun tool for learning body parts. I combine them with verbs we are learning in movement songs. (You can find my Spanish favorite movement songs here.)
To play, each child has a bean bag, and I call out a body part. For example, I might say cabeza. Kids put the bean bag on their heads. Then, I call out an action, for example correr. Kids run and try to keep the bean bag on their head.
To add a little suspense to the game, you can play by turning over cards. Make two sets of cards, one with body parts and one with actions. Turn over one from each pile to determine what you will do. Kids like to take turns being the ones to turn over the cards.
I also combine bean bags and verbs in relay races for active Spanish body parts games.
A focused Spanish body parts game is fun and a great confidence-builder for Spanish learners. Of course, there are endless ways to learn body parts in the context of everyday activities. For example, getting dressed and washing hands are perfect opportunities to reinforce these words. Make this vocabulary a part of your daily interactions and kids will master it in no time!