Guessing a character by asking about physical description is an excellent language activity. Monarca Language is sharing a free download of the classic guessing game made especially for kids learning Spanish.  They created this Spanish body parts game as part of Summer Spanish Read and Play.
This printable Spanish body parts game is similar to Guess Who, except that players are describing monsters. It is a clever, fun way to get lots of vocabulary practice!
Monarca Language
This Spanish body parts game is a great example of how Monarca Language makes learning fun for kids and easy for parents and teachers. Monarca Language creates printable materials for teaching Spanish to children ages 2-6.
Their materials are organized by units that center around themes like farm animals, the five senses, transportation, etc. Each theme has printable vocabulary cards, worksheets and a game. In addition, there is an craft activity to reinforce language and concepts. Be sure to check out Monarca Language and sign-up their one-month free trial to try their materials with your little Spanish speaker.
Printable Spanish Body Parts Game
This Spanish body parts game focuses on 8 body parts, making it a perfect review of key vocabulary. It also incorporates colors and is excellent practice asking yes-no questions. In addition, the monsters are named after fruit, so kids get extra practice pronouncing those words.
Each of the Spanish body parts game boards has six monsters. That is such a reasonable number for language learners! Kids need to ask several questions and listen carefully, but guessing does not become frustrating.
Monarca Language contributed this game to help kids keep language skills strong during the summer months. Sign up for Summer Spanish Read and Play for more activities and resources.
Download Adivina Quién
Adivina Quién by Monarca Language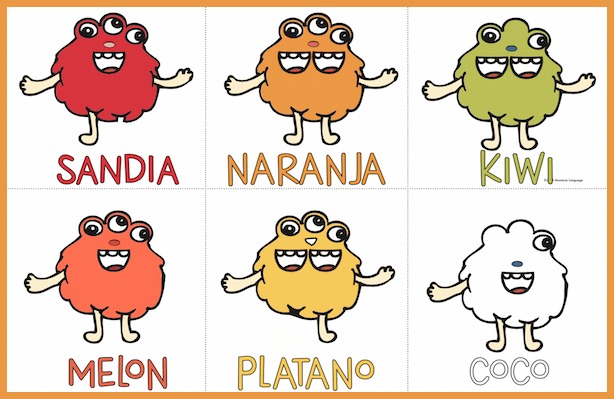 More Spanish Body Part Activities
Before you play the printable game below, be sure children know the body parts in Spanish and can produce the words easily.
Do you have other favorite ways to practice this vocabulary? If you have a favorite Spanish body parts game or other activities you like, please share in comments!