If you like games and are learning Spanish, then it only makes sense to play Spanish board games. Of course, you need to choose games you enjoy. We've got recommendations with everything from classic games to printable Spanish board games for beginners.
Be sure to check out all our games on our Spanish Games for Kids page.
Why Play Spanish Board Games?
Playing games is fun and also creates opportunities for learning. Many games use language in context, so you're learning phrases and sentences, not just individual words. Also, lots of games include pictures, and that's perfect support for beginning learners.
The language of game playing itself is also useful. Sentences like It's your turn, I won, Roll the dice, and Take a card teach patterns and vocabulary you can apply to other situations.
I also like to play board games with Spanish learners because taking turns breaks language into small pieces, incorporates repetition, and gives players time to think. That's a win for language learning (even if you lose the game).
I'm a member of Amazon's affiliate program. If you make a purchase using a link from my content, I am compensated.
Spanish Board Games for Language Learners
KLOO Games
KLOO games use color coded cards to help you create sentences and speak Spanish. The card decks have themes like places, travel, shopping, eating and restaurants. It's a clever design and a fun way to get in some Spanish playtime. Find KLOO games on Amazon. (affiliate)
Mirar y Recordar Memory Game
This free printable game is fabulous for learning vocabulary and questions. Look at the picture for 10 seconds, then answer questions like ¿Cuántas sillas hay? or ¿De qué color son las flores? It's a fun way to review and learn language in context. Get the Spanish game to learn vocabulary with pictures.
Spanish Bananagrams
I love Bananagrams in Spanish! I use these little tiles for all kinds of games with learners of different levels. Check out my list of 23 games to play with Bananagrams, and find Spanish Bananagrams on Amazon. (affiliate)
Bingo Games
If you have a group, Bingo is always a hit. Whether you play vocabulary-themed bingo games for Spanish learners or the authentic Lotería, you are certain to pick up new words.
For kids, consider Lil' Lotería, a bilingual bingo game from the makers of Lil' Libros, this Español Básico Bingo or Eeboo's Spanish Bingo Game. There are also lots of buying options for a set of authentic Lotería boards and cards. (affiliate)
Printable Board Games
We have several free printable board games at different levels. These printable Spanish board games with question cards range from games with simple choice questions to more advanced general knowledge questions.
Mi cuerpo incorporates actions into a board game, as well as questions. There are two levels and you can find them in this set of Spanish Body Parts Games.
For beginners, this board game to practice greetings is perfect and this you can learn common tener expressions with this printable game.
Spot It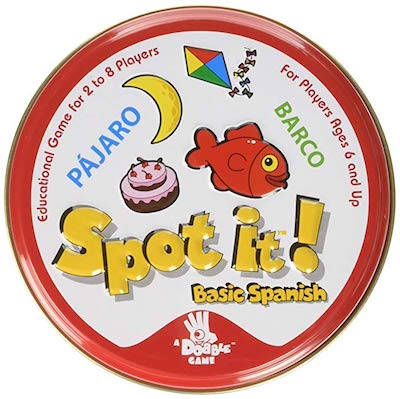 Spot It! Spanish (affiliate) is a fun way for kids to learn and practice basic vocabulary. It's designed for beginning learners and the vocabulary matches what it taught in many elementary programs. This game is tons of fun and a good way to learn or review vocabulary if you're saying the words out loud.
Turista Mundial
My kids grew up playing this Spanish version of Monopoly. Players practice numbers, the names of countries in Spanish, and learn travel vocabulary from the cards. You can find several versions of Turista Mundial on Amazon (affiliate), but do watch for stereotypical images if there are drawings of people. There are other versions as well as, like Turista Mexicano and Turista Mundial Disneyland.
Go Fish Board Games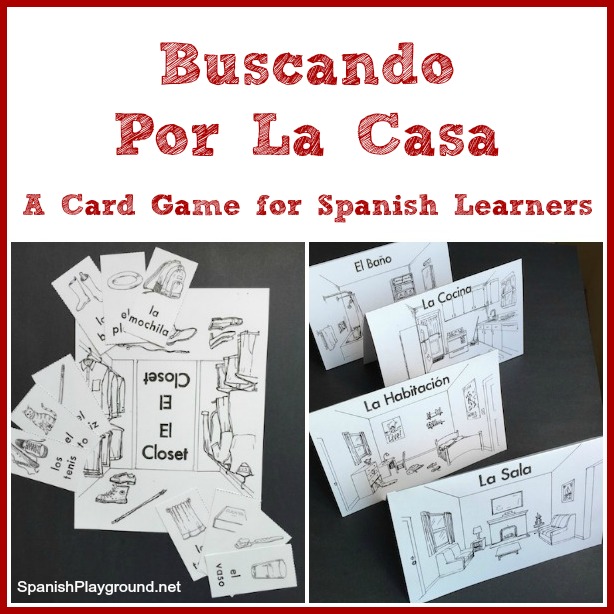 These variations on Go Fish get players speaking Spanish in full sentences.  Each player has a place related to the theme. The place is represented by a drawing and there is a center place for the pile of cards.
For the house game, you make sentences like:
¿Hay platos en la cocina?  Sí, hay dos platos en la cocina.
¿Las toallas están en la sala? No. Busca las toallas en el closet.
For the animal game, you make sentences like:
¿Hay perros en la ciudad?  Sí, hay dos perros en la ciudad.
¿Las vacas están en el bosque? No. Busca las vacas en la granja.
Learn more and get the games here: Encuentra los animales and Buscando por la casa.
Scrabble
No list would be complete without the classic board game Scrabble. A Scrabble game can get long, so with players of different levels, we don't keep score (this helps keep the game moving).
However, we do use our words in sentences as we play, and at the end of the game tell a story together using the words on the board. One of the great things about board games is you can adapt the rules to fit your group! You can find Scrabble En Español on Amazon (affiliate).
Spanish board games make a great addition to language materials at home or in a classroom. We love the classics, but also get creative and make our own. Do you have favorite games? We would love to share them with our readers, so let us know what we can add to this list.