I love Spanish. And I decided a while back that I want to pass that love of Spanish on to my children as well by teaching them Spanish at home. Even with all the love I have for Spanish, I must say, passing down a second language to my own children PERPLEXES me sometimes!!
Even parents who speak Spanish as their first language say it can be a challenge to teach their children Spanish. (If those parents live where Spanish is not the majority language.) Whether Spanish is your first language, second language, or a language you want to learn with your kids, you can't always expect a walk in the park.
So when the going gets tough, lean on these strategies below!
Kali is a Spanish teacher and mom, teaching her own children Spanish at home. She shares ideas and discoveries on her blog For the Love of Spanish. Follow Kali on Facebook, Instagram and Pinterest.

Many thanks to Kali for writing this article with strategies and encouragement for learning Spanish at home!
If you are teaching kids Spanish at home or at school, be sure to check out our Teach Kids Spanish: Resources and Strategies page. You'll find lots of helpful, inspiring information.
Focus on What You Have Accomplished
My kids are 8, 6, 4, and 2. I have tried exposing them to Spanish at varying levels of commitment (on my part) since my oldest was born. I consider the following as some successes of our journey:
My kids know other languages exist.
My kids can recognize when someone is speaking Spanish (although my younger ones still just think any foreign language they hear is Spanish).
My kids can count in Spanish.
My kids can follow a few simple commands in Spanish.
My kids use some Spanish words and phrases.
My kids want to learn more Spanish.
My kids don't complain (as much as they used to) when I read to them in Spanish.
Whatever level of Spanish your kids have reached, make sure you acknowledge even the small things. I see you, and I know all those little successes have taken work and dedication on your part. Celebrate them!
Remember: There Are People Out There Like You—Go Find Them!
When I first began thinking, 'Hmm, I'd like to teach my kids Spanish,' I didn't know anyone like me. I often felt weird or lonely. The longer I travel this road to bilingualism, the more parents I meet who share a similar journey.
Some parents have children in immersion programs and want to support Spanish at home even though they don't yet speak it themselves.
Some parents home school and want foreign language to be a part of the curriculum.
Some parents want their children to learn Spanish in order to communicate with family members or friends across the globe.
Some parents learned Spanish as a second language (me!) and want to pass it on to their children.
Some parents speak Spanish themselves, never thought to pass it on to their kids, but now they want to yet don't know where to begin.
Finding people teaching Spanish at home like me brings encouragement, cheerleaders, and inspiration.
A few places I have found my people
Multicultural Kid Blogs
Teaching Spanish to Children Facebook Group
Language Learning at Home Facebook Group
More ideas to find your people
– Host your own Spanish Playgroup
– Organize a Spanish Story Hour at Your Local Library
– Go to multicultural events (you might even find friends that inspire you to learn another language in addition to Spanish!)
Make Sure You Have a Plan—And Make Sure It's Simple
Whatever your reason for partnering with your kids in learning Spanish at home, it helps to have a plan in place. It also helps to know this plan will change and that's okay. And lastly, I cannot stress this enough. Make sure it's SIMPLE! We parents get so busy, stressed, and pulled in different directions. Making your language plan too complicated will bog you down and make you not want to keep at it, or possibly even attempt.
Find a Learning-Style That Fits YOUR Family
I have found that making a plan is easier when I have a format or structure to work from. We finally found that in a Charlotte Mason inspired format.
Basically we choose one well-known tale that we can find told in Spanish, on audio, spoken by a native-speaker. Then we gather a bunch of good Spanish books from our library to last a few months, choose a few Spanish poems to memorize, a Spanish folk song to learn, and lots of new vocab.
There are many, many ways to do language learning at home. I think my favorite aspects of this method though, are the authentic language & culture it brings into our life. Reading poetry felt a little awkward at first (it's a new hobby for us), but it has offered such rich language in a simple & fun format—great for learning.
If you're looking to bring a little life to your learning Spanish at home, I suggest you give this format a go. I've written more in depth about the Charlotte Mason method and language learning at home here.
You can read about how we are following this format with a Little Red Riding Hood Spanish unit here.
Spanish at Home Lesson Plan Template
Today I'm also sharing a blank Spanish-at-home lesson plan template with you that you can print out to guide you as you get started.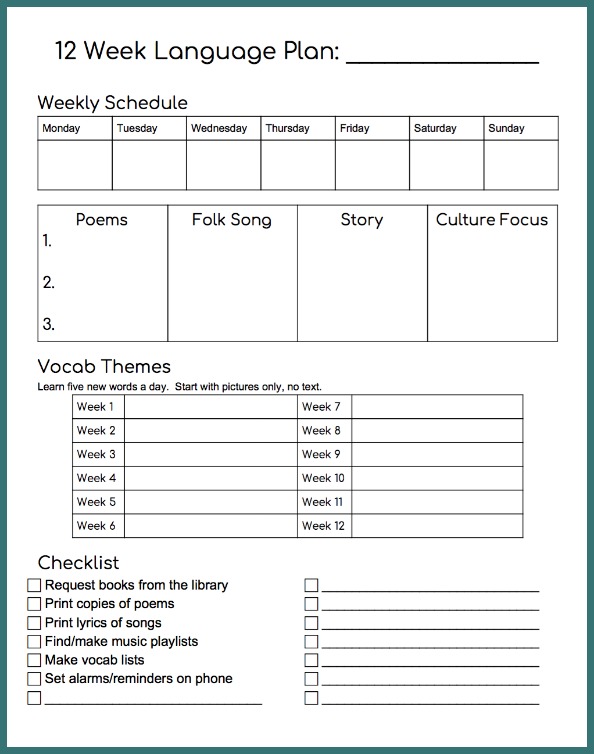 Spanish at Home: How It Works
We plan 12 weeks at a time. You can write the dates at the top of the page. Next, decide what you will do each day. For example our weekly schedule looks like this:
Monday—vocab & main story
Tuesday—vocab & poem
Wednesday—vocab & game
Thursday—vocab & folk song
Friday—vocab & booklet (we write a simple story in Spanish)
Saturday—books & music
Sunday—culture study
Next, decide what poems you want to memorize, what folk song you want to learn, what classic tale you want to use, and finally how you will add a cultural element (study a Spanish-speaking country? children's book author? famous artist?).
Then you'll want to choose a vocab theme for each week. It's great to coordinate these with the season or with things you know you'll be doing those weeks. For example, if it's soccer season, choose to learn about soccer vocab one week. Or if you're going on vacation to the beach one week, learn about beach words. One or two weeks could also be dedicated to the main story for the term/unit. You don't have to write out all 12 vocab lists at the beginning, but try to at least keep prepare 2-3 weeks ahead.
Lastly, use the checklist to see what other things you can do ahead of time to prepare and gather resources. The more things ready to "grab & go" the better!
I hope this guide gives learning Spanish at home a boost!
Many thanks, again, to Kali for her wonderful article!
As you undertake the language learning journey, there will be days when the task seems overwhelming. For inspiration, check out Teaching Kids Spanish: Reminders for the Hard Days. and be sure to tap into the super hero skills of parents raising bilingual kids.