Arriba Abajo is the latest album from 123 Andrés. These delightful songs for learning Spanish encourage language development as they explore vocabulary and basic concepts.
123 Andrés is originally from Colombia and records his songs in both English and Spanish. I'll focus on the Spanish version, but if you are working with English learners, be sure to check out the songs and resources in English. You'll find information, lyrics and free learning guides for both languages on the 123 Andrés website.
Arriba Abajo won the Latin Grammy for Best Children's Album in 2016.  It is available to purchase on Amazon and iTunes.
Check out more of our favorite Spanish songs for kids organized by theme.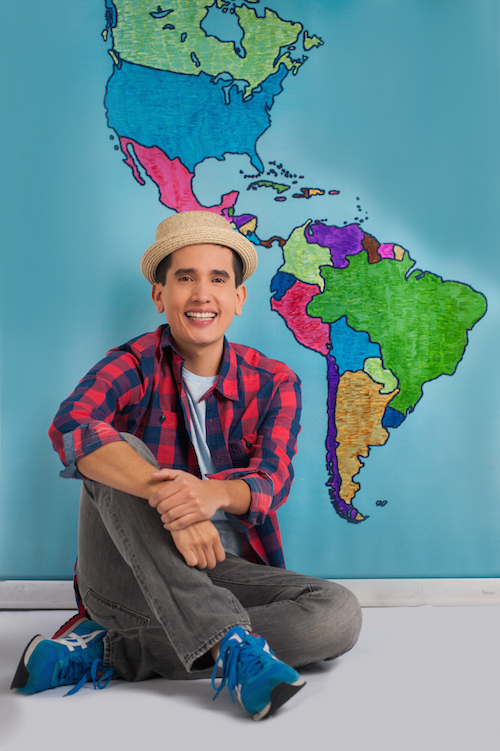 Basic Concepts in Songs for Learning Spanish
The songs on Arriba Abajo reinforce language related to numbers, letters, body parts, days of the week and other basic concepts. These songs for learning Spanish fit into themes we commonly teach in the elementary grades, so they are wonderful for a classroom as well as home. Here are a few of my favorites, and you can find more songs on the 123 Andrés YouTube channel.
La semilla – I taught this song this spring as part of a plant unit, and the kids loved it. It has relevant vocabulary and includes clear spoken Spanish that gives language learners an extra level of exposure. I also love the pattern and the image of all the seeds and trees growing. I like this song so much I included it on our Summer Spanish June Activity Calendar.
Dame una A – This vowel song is about traveling and exploring. The lyrics provide a context for the words that start with each letter, not something that is true for many songs for learning Spanish vowels. Also, the examples of initial vowel sounds come at the end of the line. This makes it easy for children to hear them and sing along.
Vamos a cantar – This joyful song includes singing up and down the scale. Remember how fun that was with Do-Re-Mi from The Sound of Music? Kids have a wonderful time singing as they learn the scale. The song also reinforces the clear vowel sounds essential to Spanish pronunciation.
Learning Guides for Songs for Learning Spanish
123 Andrés worked with families and education experts to create free learning guides in both English and Spanish for the songs on the album.
The learning guides provide teachers and parents with fun, age-appropriate activities to make the most of the language and concepts in the songs. In addition to reinforcing the vocabulary, the activities work with numbers, shapes, letters, rhyme, syllables and sequences.
The learning guides also suggest picture books that correspond to the songs. The books give language learners visual support for new words and provide repeated exposure to language and concepts. These books are a wonderful resource and an excellent way to extend learning.
On Arriba Abajo, 123 Andrés sings songs for learning Spanish and for learning about the world. His music is a powerful medium for reaching and teaching children as he shares language, knowledge and joy.