April is National Poetry Month! Celebrate with these short Spanish poems about spring. They are by Douglas Wright, a well-known artist, poet and author from Argentina. He generously shares his work on his blog El jardín de Douglas and gives me permission to share it on Spanish Playground. You can find many poems for children and information about sharing them with language learners on our poetry resource page Spanish Poems for Kids.
Douglas Wright illustrates his work. Kids love the drawings, and the art helps them understand the short Spanish poems. Click through on the title of these poem to see the illustrations on El jardín de Douglas.
No los veo
No los veo, no los veo,
pero sé que están ahí;
entre las ramas brotadas
escucho sus PÍ PÍ PÍ.
Teaching Short Spanish Poems
I use short Spanish poems like No los veo this way:
1. I read the poem aloud to the children.
2. We look at the illustration and talk about ramas and the verb brotar. Las flores brotan, las plantas brotan, las hojas brotan..¿Qué brota en las ramas? Las hojas.
3.  I ask questions. I ask them ¿Qué estación es? and then ¿Qué es lo que no ve el hablante del poema? They can answer this question easily based on the pí, pí, pí and the illustration. I use this moment to point out that the word los in the phrase No los veo is referring to pajaritos.
¿Qué es lo que no ve el hablante del poema?
Exacto, no ve a los pajaritos. No los veo, no los veo…está diciendo que no ve a los pajaritos.
– I ask ¿Por qué no los puede ver?  The illustration clarifies this really well. Por las hojas.
4. I recite the poem with simple actions.
No los veo, no los veo (hand above eyes looking for something)
pero sé que están ahí (nod head yes, and point up into an imaginary tree at ahí).
entre las ramas brotadas (arms up and out to represent tree branches)
escucho sus pí, pí, pí. (hand cupped to ear listening).
5. We recite the short Spanish poem together with actions. I do this step as an echo.
6. Make shape poem with printable. We make trees with the words of the poem on leaves. I have included the PDF for the simple activity that I use. You can print the leaves on green paper or kids can color them light green. Children can also add a nest or birds hidden behind the leaves.
Download the printable for this poem: Spanish poem printable activity – No los veo by Douglas Wright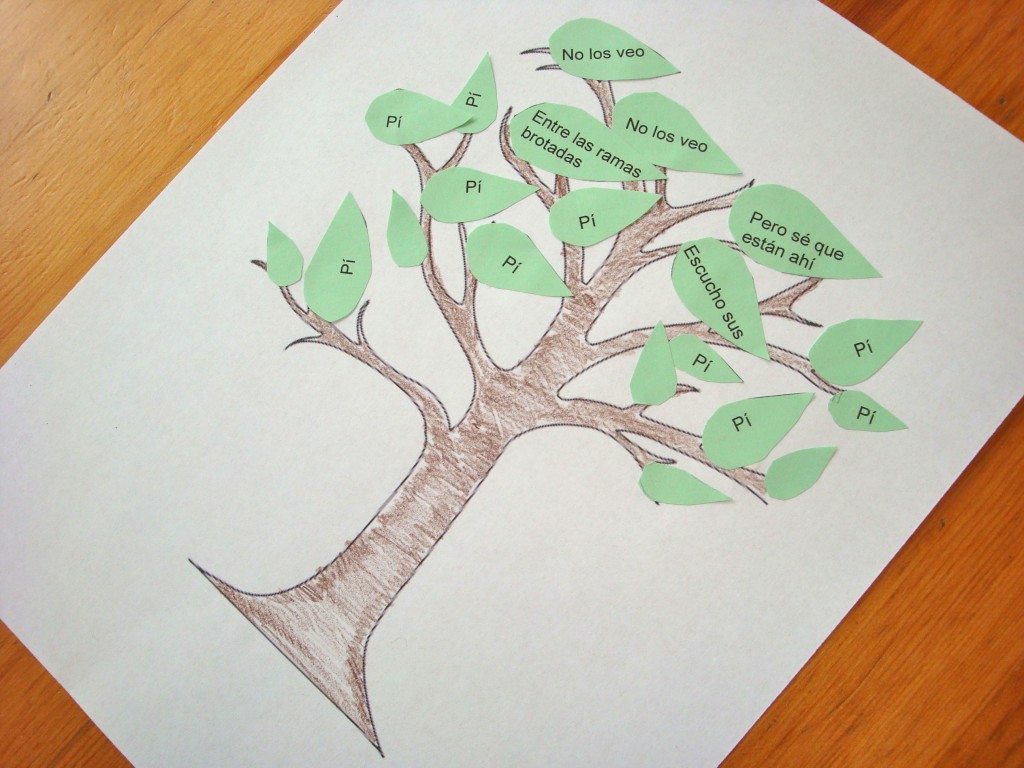 Douglas Wright has many other short Spanish poems. This one is about how spring blossoms can look like butterflies.
¿Mariposas en un árbol
o flores de primavera?;
no sé si son mariposas
o son flores que aletean.
This poem is about spring and how it can make us sneeze.
Ya llegó la primavera
y hoy me vino a saludar;
yo le respondo el saludo
¡dele y dele estornudar!
As always, thanks to Douglas for letting me share his poetry on Spanish Playground! Read about two more of his poems about spring, and be sure to visit his blog for lots more poetry to share with kids.