Printables posters and coloring pages can help create a text-rich environment in a classroom or at home. Research has shown that a text-rich environment is an essential component of early literacy. It is important for children to recognize print in their surroundings and understand that text carries meaning. This is especially important for children learning Spanish in the United States because most of the text they see in the community is in English.
These printables are perfect for spring and are designed for Spanish learners. Specifically, the posters and coloring sheets:
– use complete sentences or express complete ideas with traditional sayings
– use short, focused text
– reinforce and clarify key words with pictures
– use songs and sayings, which are recitable, recurring language. You can sing the song and use the sayings in many situations.
– are culturally relevant. Both the song and the sayings are well-known in the Spanish-speaking world and convey cultural values.
The De colores posters have the lyrics to the chorus of the traditional song. Many teachers sing De colores with classes at this time of year. The song is a good way to introduce or reinforce spring vocabulary such as la primavera (spring), las flores (flowers), el arco iris (rainbow), los colores (colors), los campos (the fields), los pajaritos (the little birds), el gallo (the rooster), la gallina (the chicken), and los pollitos (the chicks).
De Colores – Los campos
De Colores – Los pajaritos
De Colores – El arco iris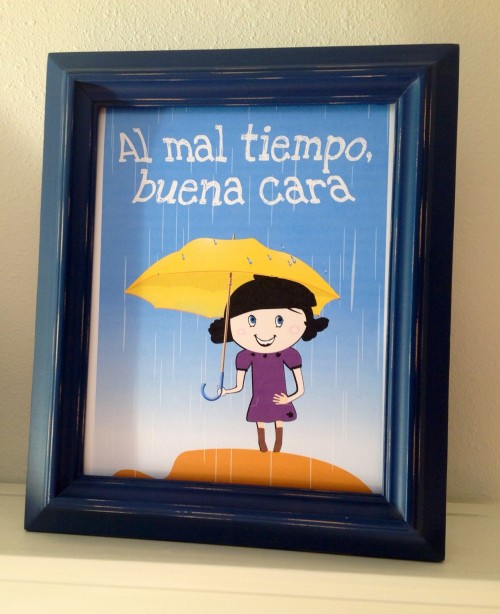 These posters and coloring pages are a good way to introduce children to four well-known sayings in Spanish. Two use weather vocabulary and two have to do with water and animals. These are the sayings on the posters and coloring pages:
El sol brilla para todos. – The sun shines for everyone. This is an excellent reminder that everyone is created equal.
Al mal tiempo, buena cara. – In a difficult situation, a good attitude makes all the difference! Literally, it means "In bad weather, put on a happy face." The idea is similar to "If life gives you lemons, make lemonade."
Feliz como un pez en el agua – Happy as a fish in water. This common metaphor is similar to "happy as a clam" in English.
¡Al agua pato! – Into the water, duck! This is a common saying to use with children at bath time or anytime they are getting into the water. You can hear a fun, traditional song based on the saying here: Spanish Song for Kids – Al agua pato