Tripas de gato is a traditional game my kids played in Mexico, and it can easily be adapted as a language learning activity. The name, tripas de gato, means "cat guts." You can download two examples of this  printable Spanish game below.
Be sure to check our complete collection of traditional Spanish games for kids.  You'll find our favorite games for language learners, with everything from playground games to board games.
Tripas de gato is also played in other Latin American countries and Spain. Kids only need pencil and paper to play. In the traditional version, players take turns drawing lines between pairs of numbers (1 to 1, 2 to 2) without crossing or touching any other lines. This gets harder as the lines form a maze.
Tripas de gato does not have to be played with numbers. You can use the game for a variety of language activities. Children can pair words and pictures or match words that have similar sounds or meanings. Below are links to two of my tripas de gato games to download and print. In one, kids draw lines from the number to the Spanish word for the number. In the other, they draw lines from a picture of the animal to the Spanish word. There are links to other examples of the game, too.
Links to the Printable Spanish Game Tripas de gato from Spanish Playground
Match numbers to words
Match animals to words
More Examples of the Printable Spanish Game Tripas de gato.
Match word endings – This a scribd presentation on syllables. It is a workbook with lots of activities, and on pages 12, 13 and 14 you will find tripas de gato games where kids draw lines between words with similar endings. (This workbook was free when I wrote the post, but you need a subscription to download it now.)
This a photo of a tripas de gato game on a placemat at a restaurant in Zacatecas, Mexico.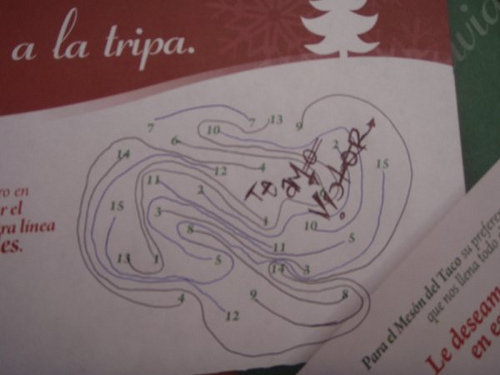 You may also be interested in this post: Printable Spanish Activities – Listen and Draw