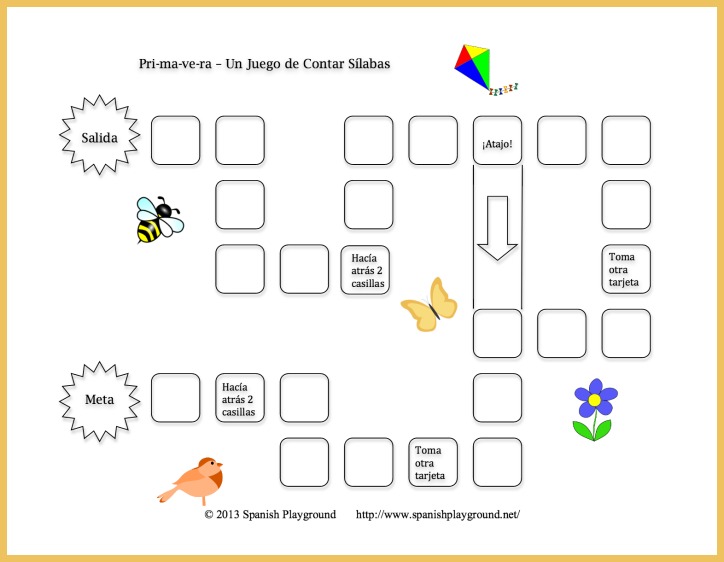 In this printable Spanish board game, kids move around the board by clapping and counting the number of syllables in a word. There are pictures accompanying the words on the cards, so kids learn new vocabulary too. Most of the vocabulary is related to spring.
If you're looking for more specific vocabulary activities, check out all our Spanish vocabulary games grouped by theme.
In Spanish, syllables define how to read, spell and accentuate words. Because syllables are so important, they are the basis for learning to read. In English, children learn to "sound out" individual letter sounds, but in Spanish children "sound out" syllables.
Being able to separate words into syllables is an important pre-reading skill, but it is also important for children who already read and for all Spanish language learners. Correct Spanish pronunciation depends on being able to hear diphthongs pronounced as one syllable. It is also important to be able to break a word into syllables to be know how to add written accents. The verb silabear means to pronounce a word broken into syllables.
To play Pri-ma-ve-ra Clap and Count Syllables, print the game board and picture cards. Cut out the picture cards and place them face down in a pile near the board. You will also need a marker for each player, like a coin or another small object. The youngest player begins by drawing a card and saying the word. Adults or older players can read the word and help children pronounce it. The player says the word again as she claps for each syllable. Then she moves her marker the number of spaces on the board that there are syllables in the word. The card is placed in a discard pile and it is the next player's turn. If you play with several players, you may need to make more cards or shuffle the discard pile and use the cards again.
Link to Printable Spanish Game for Kids
Primavera Clap and Count Syllables
For some reason the cards looked a little strange in one of my pdf viewers, but everything printed fine. Please let me know if you have any problems.
There are a few instructions on the game board:
Salida – Start
Meta – Finish
Hacia atrás 2 casillas – Back 2 spaces
Toma otra tarjeta – Take another card.
Atajo – Shortcut
These are the words on the cards.
1 sílaba
flor
tren
sol
pez
2 sílabas
rana
pato
perro
árbol
chanclas
lluvia
fresa
botas
globos
3 sílabas
abeja
araña
pájaro
hormiga
paleta
conejo
tortuga
pelota
oruga
helado
cometa
paraguas
pollito
4 sílabas
mariposa
mariquita
bicicleta
tulipanes
You may also be interested in this post: Hand-clapping Games in Spanish – Mariposa and Chocolate