As a teacher, parent, and now grandparent, I've spent a lot of time thinking and learning about effective ways to give positive feedback to kids. My go-to strategy for positive praise in Spanish is to use a simple, specific description. Often, I follow up by connecting the description to character. 
Below you'll find an explanation, examples and a printable list of vocabulary for complimenting character in Spanish. 
Using Praise Wisely
Research shows that even though parents and teachers mean well, praise can backfire, making children less confident rather than motivating them. So, like other interactions with kids, praise has to be intentional.
Effective praise is specific and descriptive. Fortunately, that is ties right into language learning. Descriptive feedback is an excellent way to expose children to relevant, comprehensible Spanish. 
Learn about Positive Praise
If you want to learn more about the research related to praise, try How to Talk so Little Kids Will Listen by Joanna Faber and Julie King. There are also good articles online that will give you a better understanding of praise. For example, you might want to check out The Power of Effective Praise: A Guide for Teachers. 
Praise in Spanish
This strategy focuses on describing behavior and complementing character and also builds Spanish language skills. Research shows that praise for specific behaviors and effort is most effective. With this feedback, we focus on action and attitudes children can control, rather than innate abilities. 
Describing Behavior in Spanish
One of the best ways to focus on behaviors and effort is to praise by describing what kids are doing. This lets children know what they are doing well. In addition, it exposes language learners to specific relevant language.
As the authors of How to Talk so Little Kids Will Listen suggest, praise by "describing what you see."  In terms of learning language, when we describe what we see, there are physical and situational clues to support the language and create comprehensible input. 
With language learners, we need to use short sentences with clear references to objects and actions. These simple descriptive statements and our tone of voice makes it clear that we are praising the behavior.
In addition, you can follow up by connecting the description to a positive character trait. This two-part praise builds on context and physical clues to be comprehensible to language learners.
Here are a few examples: 
Recogiste los bloques. ¡Qué trabajador!
Le diste la galleta a tu hermano. Qué generosa eres.
Esperas tu turno para bajar el tobogán. Eres paciente.
Dejas que tu amiga juegue con tu camión. Qué considerado. 
Estás trabajando en tu tarea de matemáticas. Eres estudioso.
Me divierto en el parque contigo. ¡Eres muy juguetona!
Gracias por poner las tijeras en el cajón. Me ayudas mucho. 
Complimenting Character
This is a list of character traits you can build on in Spanish. You can download a printable version here: 26 Ways to Compliment Character in Spanish.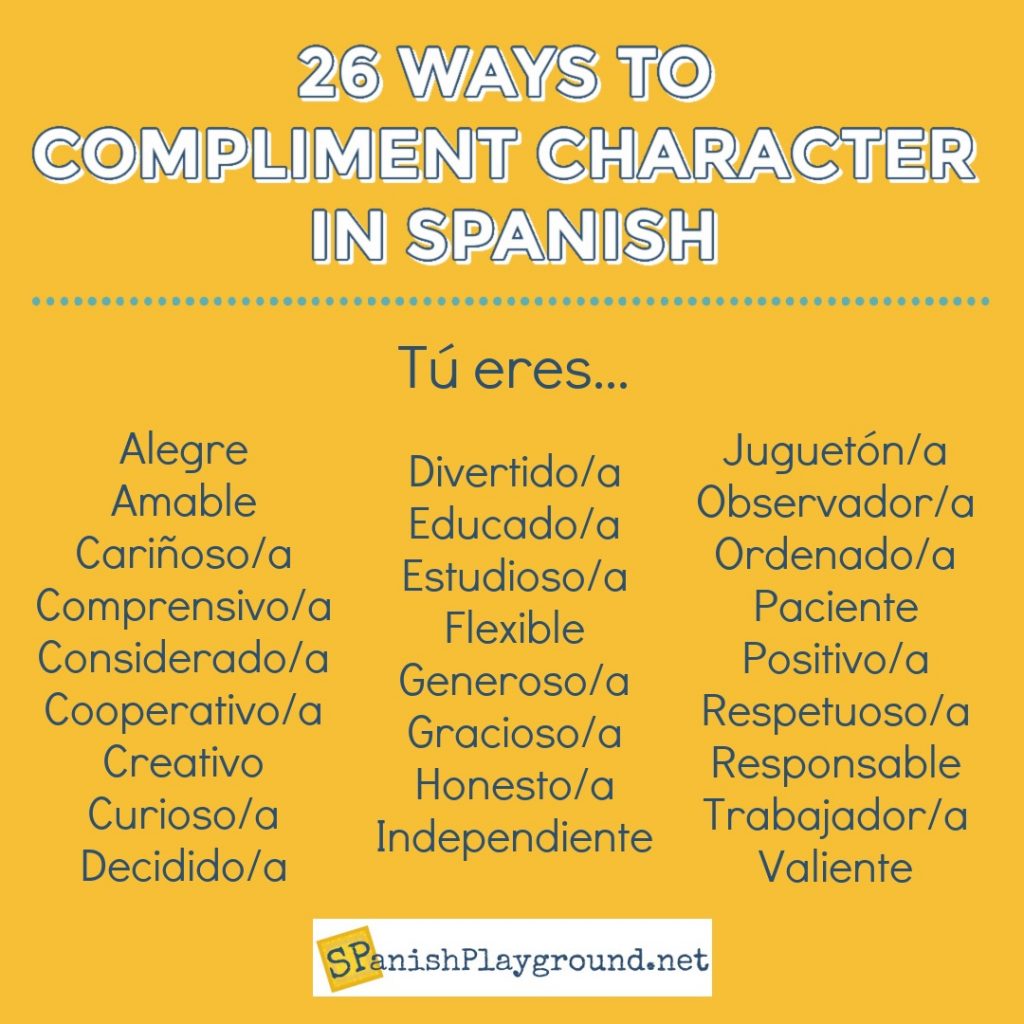 There are some cases where it is most natural to use a verb in Spanish. In addition to the adjectives on the list above, you can use verb phrases like these:
Me ayudas mucho (You're helpful.)
Tienes mucha curiosidad (You're curious)
Te esforzaste mucho (You worked really hard).
Effective praise engages kids positively with what they are doing. With Spanish learners, using description to give positive praise is a practical strategy that also reinforces language learning. By describing what we see, we can build confidence, character and language skills at the same time.