Reading is one of the best ways to build vocabulary and give kids consistent exposure to Spanish. These online Spanish stories are short and supported by illustrations.
Check out our Spanish reading for kids resource page for online books, printable reading activities and activities for favorite picture books.
Kids can read these stories on mobile devices, so they can start a new story anywhere.  The stories are also free, which makes them an excellent supplement to a home or classroom library.
The 50 online Spanish stories are divided into three groups. The first group  has stories with text, illustrations and audio. The second group has text and illustrations, but no audio. The third group of online Spanish stories are videos. Kids get the support of the images and listen to a story, but there is no text.
If you find a broken link, please let me know. You can use the contact tab on the top toolbar.
Online Spanish Stories with Audio, Text and Illustrations
Stories from StoryPlace
These online Spanish stories are from StoryPlace. You can also find games and printable activities to go with the stories.
The Fable Cottage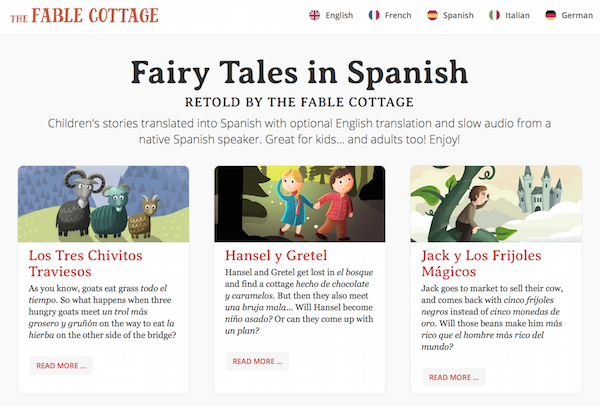 Familiar stories aid comprehension, and kids love fairy tales! The Fable Cottage has a selection of online stories with audio.
Pictocuentos
These 3 online Spanish stories are from Pictocuentos. They have pictograms to support the text as well as illustrations and audio.
Online Story from Scholastic
This story from Scholastic will please Clifford fans.
Online Spanish Stories from Bartolo
There are several online Spanish stories from Bartolo, a digital resource from Chile to promote literacy. They are Adivina lo que siento (and an activitiy for that story), La mono vestida, La cigarra y la hormiga and El cabrito y el lobo. You can find all the stories on the Bartolo website under the tab Lecturas.
BoxBook Stories
These 2 online Spanish stories were created by BoxBook
This story is about a perro and a pericotito. A pericote is a ratón, or a mouse.
Stories on YouTube
You'll find this lovely story on YouTube.
This story is about a bear who wants a friend. There is text to print and a video of the story being told with figures. You can print and cut out the figures to tell the story too.
Printable Spanish Story and Scene: El oso y sus amigos
Online Spanish Stories with Text and Illustrations
Wilbooks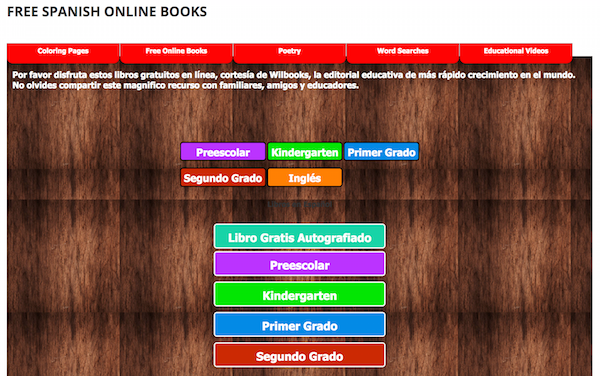 Wilbooks Online Spanish Books come at a range of levels. You can also order print copies. This is a wonderful resource!
Buena Gente Spanish eBooks
These stories are PDFs that you can print or use on a device.  The story corresponds to the video series Buena Gente, so the audio component is also accessible. However, you can certainly read them without watching the series. Find the free Spanish ebooks for Buena gente here.
Aprendices Visuales
These 4 online stories from Aprendices Visuales have pictograms to support the text as well as illustrations.
Easy Spanish Books in PDF
I made these 5 online Spanish stories for my beginning Spanish learners. They are excellent for preschoolers, but also are appropriate for older kids who are starting to learn Spanish.
You can download all of these books as PDFs here: Easy Spanish Books in PDF
The titles are Grande y pequeño, ¿Qué hay en un árbol?,¿Uno, dos, tal vez tres?, Busca los colores and Es primavera.
These 3 stories were created by teachers for Spanish learners. The pictures are small, but the language is at a good level and there are activities to go with each story.
Online Spanish Stories on Issuu
This story uses shapes to make a clown. It is a good read aloud. The font is the script that children learn in Spain, so it may be more difficult for beginning readers.
This story introduces children to the water cycle.
Había una vez una gota de lluvia
This is a collection of fun poems with pictograms to support the text.
Online Spanish Story from Mexico
This wonderful story from Mexico has many cultural references to food.
Online Stories by Hans Wilhelm
These 2 stories are by Hans Wilhelm.
Online Spanish Stories with Images and Audio
These 7 online Spanish stories are on YouTube. They will be familiar to many kids.
There are many more online Spanish stories, so please share your favorites so we can add them to the list. Also, check out our Spanish Books for Kids for booklists, publishers and activities for specific picture books.