My students love moveable paper crafts! They are fascinated by anything that spins, opens, waves or flies. So, whenever possible, we make moveable paper crafts to learn Spanish verbs.
Crafts for Spanish Class
Crafts are a hands-on way to engage kids with language. Of course, we all have to choose activities that fit our curriculum, setting, and schedule.
In general, I look for crafts that are:
Low prep – For my younger groups, I have to cut some at home, but I choose shapes where I can cut a stack of figures at a time.
Quick for students to do – My class time is short, so I keep most of my crafts very simple.
Connected to content – The crafts we do relate to our theme, and often directly to a song or story we are learning. This is an easy way to establish context and give kids a prop for acting out language.
Connected to culture – Many of my crafts relate to countries or celebrations. We learn about animals native to Latin America like the armadillo, dolphin, and iguana.
Inexpensive – I use crafts to reinforce language, but they are not intended to last. So, I don't invest a lot of money in supplies.
Finally, if possible my crafts for Spanish class include a movement or setting so that students can practice full sentences, rather than isolated words. Below you'll find movable paper crafts I've used in my classes to help students learn verbs and other vocabulary.
For a wonderful collection of crafts inspired by Latin American culture, check out: Latin American Crafts for Spanish Class.
How Moveable Paper Crafts Work
There are a several mechanisms that animate moveable paper crafts, but I choose easy, sturdy projects. Lift-up flaps, brads (split pins) for spinning scenes and wheels, pull strings and paper folds make these moveable paper crafts work.
Paper Bag Puppets
Paper bag puppet are similar to moveable paper crafts in that after students make them, the puppet can talk and eat.
I make paper bag puppets with preschoolers to practice greetings and body parts and to reinforce the verb comer. You can find examples and templates for paper bag puppets for dozens of animals and characters online.
Like puppets, paper figures are excellent for retelling stories. Check out these stories with cut-out figures:
Spanish Story PDF: El oso y las abejas
Printable Spanish Story and Scene: El oso y sus amigos
Spanish Story with Cutouts: Un picnic en el bosque
Moveable Animal Paper Crafts
Many of my moveable paper crafts are animals. Kids love them, and it's a fabulous way to practice verbs.
Jumping Dolphin Crafts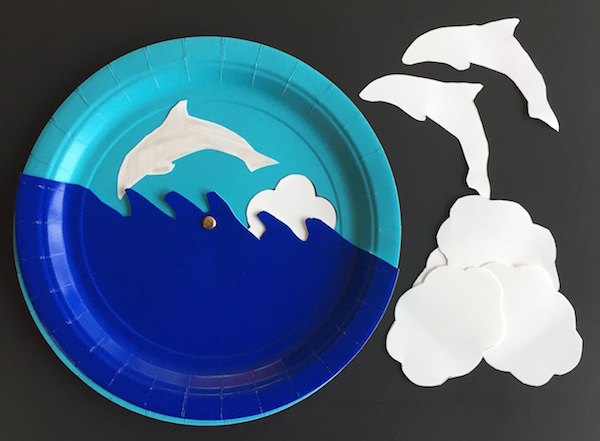 We use paper plates and brads to make this jumping dolphin. Kids hold the first paper plate and spin the one behind to make the dolphin jump in and out of the waves. Our vocabulary includes el mar, las nubes, el agua, el delfín, nadar, and saltar. You could certainly put birds in the sky and add volar.
This is another jumping dolphin craft with a free printable. It uses a horizontal cut in a coloring sheet and a dolphin on a stick. It's very easy!
Big Mouth Animals and Monsters
Big mouth animals are made with two simple folds, and kids love them. I started making these big mouth monsters from It's Always Autumn years ago to practice abrir, cerrar, comer, and body parts.
Since then, there are dozens more big mouth animals online. Often they are called "surprise big mouth" because there is something extra when you unfold them.
I love them because as a moveable paper craft goes, they take almost no time in class. For preschoolers, I fold first (a little tedious), but older kids can fold their own. Then, they are basically a coloring sheet, and we sometimes add googly eyes.
Easy Peasy and Fun some cute free templates and also tutorials for how to make them. Check out this surprise big mouth fish template and this surprise big mouth dog.
Moveable Spider Craft
I do a spider theme with students at several levels. This moveable spider craft is easy to make and always a hit. You can use it with the Itsy Bitsy Spider in Spanish and to practice subir and bajar. 
You can find directions for the moveable spider here. I made my own spider and used one long piece of string, but that is where I got the idea. You can see one of my students making his spider go in this video on Instagram.
Flying Birds
My favorite bird craft is the flying bird toy from Made By Joel. He has a great template and it's perfect for songs and stories where birds fly away and we're using the verb volar. It is very easy!
Non-Toy Gifts also has a fun paper plate flying bird craft. It's a bird house with a branch, and you could easily add more elements to the scene.
Moveable Frog Crafts
Frogs with moving tongues are another fun moveable paper craft. They are great for sacar la lengua, atrapar and comer.  This is a video tutorial for the moveable frog, and they are very easy to make.
These easy origami jumping frogs are also fun to do with kids who are a little older.
Bendable Moveable Animals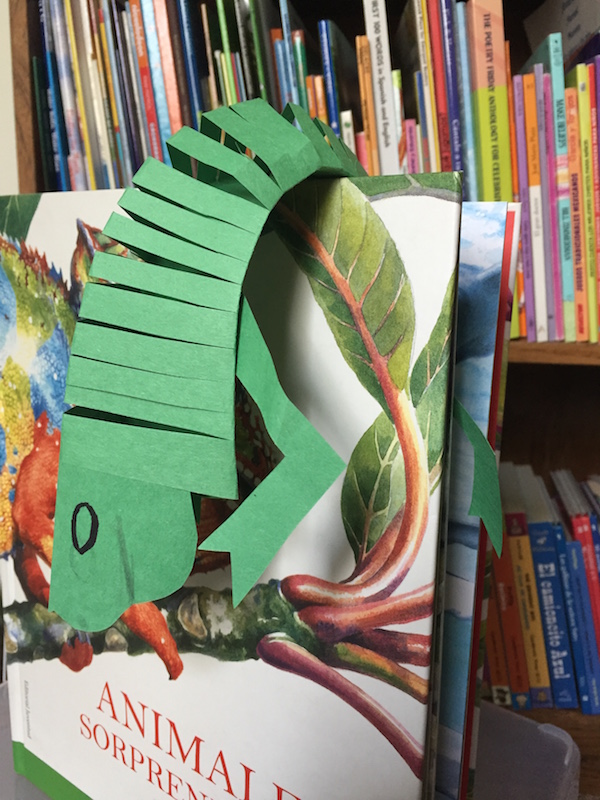 Iguana
This summer, I discovered this cutting technique to make a moveable lizard. I used these instructions for a 3-D lizard from Artolazzi to make an iguana craft for Spanish camp. It was a hit with the kids because the iguana curls around like a real lizard.
Moving Fish
You can use the same idea to make other animals. Krokotaka, one of my favorite paper craft websites, has great instructions for a moving fish here.
Caterpillar
K4Craft makes this moveable caterpillar craft the same way, but they add sticks to the ends so kids can make it walk. This is a fun prop to use to retell La oruga hambrienta.
Moveable Chicken and Bat Crafts
I often do a chicken theme with my preschoolers in the spring, and we learn Los pollitos as a song and story.
This chicken craft from Easy Peasy and Fun has moveable wings. It is easy to make with brads and string, and perfect for Los pollitos because the chicks are "bajo sus dos alas." Kids do need help tying the string, so this craft takes more time and doesn't work as well for a large group.
I adapt the template a little, covering the eggs with lines for straw, since the chicks have already hatched, and we use chick puppets. It's not really necessary though, because chickens have more eggs and chicks all the time!
Easy Peasy and Fun has a moveable bat template that works the same way. I sometimes do a bat theme, and of course it would be great for Halloween.
Moveable Snake Craft
This moveable snake is super easy to make once kids have mastered opening and closing brads.
Walking Animal Crafts
Moveable paper crafts help kids learn the verbs caminar and correr.
Crafts by Amanda has a cute template for a moving dinosaur. The dinosaur walks, and also has a movable head and tail.
This cute moving polar bear is made with 2 paper plates.
I like this moveable fox craft a lot, because it only has 3 pieces and is jointed at the shoulder and hip. You make it using brads and then attach sticks to make the fox run.
Moveable Ladybug Craft
Buggy and Buddy has a free printable for a ladybug craft where the wings move. This makes a nice craft for spring.
Roll-up Armadillo Craft
In addition to the iguana craft we did at camp this summer, we did this moveable armadillo craft. I made my own template, but it is just rounded triangles with a head and tail added. Punch holes in the triangles and put a brad (split pin) through. It worked really well for "Tengo miedo." The armadillo rolls up!
Armadillos live throughout Mexico, Central and South America. You can find armadillo facts and stories in Spanish here.
Swimming Jellyfish Craft
This swimming jellyfish craft from I Heart Crafty Things is a paper plate craft. Like other moveable paper crafts, it uses a slit in the plate and a stick to make the jellyfish move. I think it is adorable!
Jointed Doll Paper Crafts
You can also make moveable people (or animals standing like people). They work well for learning verbs and body parts. You can use any drawing or make your own, but there are fun templates too.
Red Ted Art has lots of moveable paper puppets here and a great Day of the Dead skeleton here.
I think these Peekaboo Toys from Mr. Printables are adorable.
This ballerina puppet is a black and white template.
Molly Moo Crafts has an idea of making moveable puppets with photos of the kids. I haven't made these, but I know children would love them.
Paper House and Barn Crafts
Lift-the-flap crafts are an easy-to-make version of moveable paper crafts. They are great for practicing ¿Dónde está? and any kind of vocabulary. You can put animals in a barn, food in cupboards or people in the windows of a house.
To make a lift-the-flap craft, add flaps to a coloring page to make doors and windows open. Give kids figures to glue behind the flaps.
I have cut out flaps for the doors and window on this barn coloring sheet. Kids glue it to another page and add figures. They can also draw the animals.
Kids can also make the whole house, like this lift-the-flap haunted house.
A neighborhood full of houses works too, where the houses are the flaps. Here is a flannel board version with a mouse.
Moveable Vehicle Crafts
Most of the moveable paper crafts I do with students are animals and people, but I also do some vehicles.
Moveable Cars and Trucks
I've made toilet paper tube cars with cardboard wheels like these. Unfortunately, ours were not as pretty. We just went with stickers for decorations because time was short.
Paper airplanes and helicopters
Basic paper airplanes are also moveable paper crafts, and you can decorate them to include people. They are great for teaching volar and viajar.
These paper helicopters are also fun and easy to make.
These are only a few of the moveable paper crafts you can use in Spanish class. It's worth considering your content and checking to see if there is a moving project that fits. Movement intrigues kids, and they want to do it again and again. Add language, and you have great learning!