The Monarch butterfly life cycle and the migration to Mexico make excellent themes for Spanish learning. Talking about Monarchs, kids learn culture, geography, science and lots of language. Here are a few of my favorite Monarch butterfly activities. I like teaching about the Monarch butterfly migration because I can easily adapt it to different levels. With beginners, I focus on a few key nouns (la mariposa, la oruga), colors (negro, anaranjado y blanco) and verbs (volar, viajar). With students who have more Spanish, you can adapt the content to their level.
Monarch Butterfly Activities for Spanish Learners
Photos and Video
Nothing is better than photos or video to introduce students to the amazing journey of the Monarch.
This is a video we made recently where Juan and Pamela talk about Monarch butterflies.
I use photos to ask questions about color, size and to talk about the life cycle of the Monarch butterfly. These are a few of the public domain photos I use. I resized them for this post, but you can click through for the original free downloads on Pixabay. There are many more! Find more photo activities on lots of topics.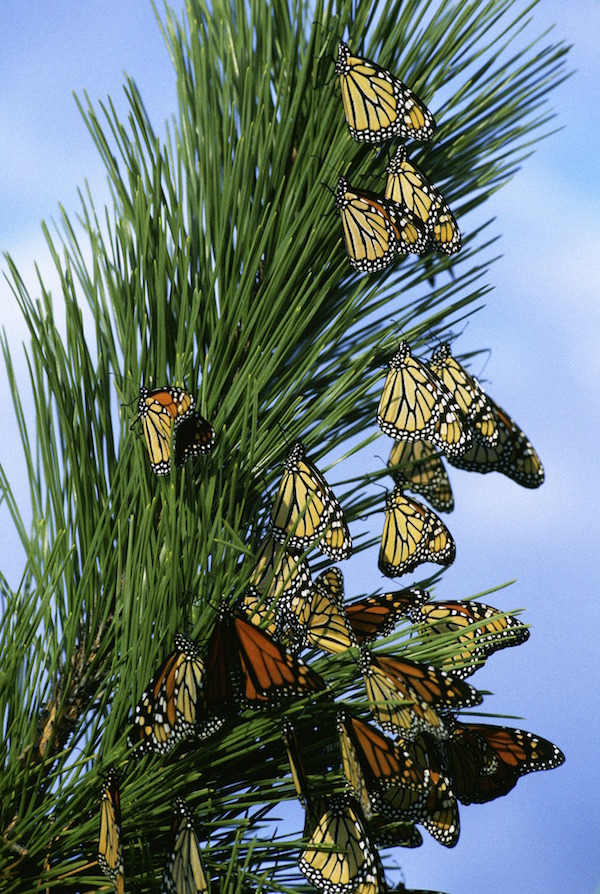 I also like the 3-minute video in this National Geographic article. In addition to beautiful footage of the butterflies, there is an interview with a man who works at the Monarch sanctuary in Mexico. The Spanish is clear. and the video is subtitled in English.
Monarch Butterfly Activities: Spanish Mini-book
I made this mini-book for my students and am also going to use it in a Monarch butterfly Girl Scout camp that I am doing with our local children's museum. The information is basic, so you will need to give students more details about the migration. I use the book in Spanish, but I made a bilingual version for the camp. You can download both versions below.
You can use the mini-book to focus on the seasons and how they relate to the Monarch butterfly. I have students color the book, and add additional seasonal detail to the pictures that mention la primavera, el verano, el otoño, and el invierno.
El viaje de la mariposa Monarca (Spanish)
The Journey of the Monarch Butterfly (Spanish and English)
Mariposa hand clapping game
This mariposa hand-clapping game is great! It's a fun way to add movement and rhythm to Monarch butterfly activities. You find more hand clapping games in the collection of 10 Spanish Hand Clapping Games for Language Learners.
Butterfly Yoga Story
I recently found this butterfly yoga story by Yogic. I make it a little simpler for beginners, and support the language by displaying pictures I can point to as I tell the story. This yoga story is also excellent for reinforcing weather vocabulary! I support these words with pictures: las mariposas, las flores, el sol, las nubes, la lluvia, el viento, el arco iris. If they are familiar, you can certainly skip the pictures and just tell the story as you do the poses.
Monarch Butterfly Activities: Arts and Crafts
There are lots of Monarch butterfly activities for creating or painting a butterfly. Time is always somewhat of a factor for me, so I keep it pretty simple.
The free Monarch butterfly printable from Learn Create Love is perfect for my students. They just need to color, cut out and glue together their butterflies. Learn Create Love also has free Monarch caterpillar craft.
These coffee filter Monarchs from CBC Parents are also easy and pretty.
The craft I would love to try is this wind up Monarch butterfly! Unfortunately, I don't have the right group or enough time, but it looks really fun. Let me know if you try it!
Migration Journey Games
You can find several Monarch butterfly migration games online, and they can easily be adapted for Spanish learners. For example, the state of Georgia has a game on this pollinators resource page. Just click on Activities and scroll down to Monarch Journey.
Scholastic also has a printable board game to learn about the life cycle and immigration of the Monarch. The game is in English, but you can easily translate the information and put it on colored paper to cover the squares.
In my classes, I keep my migration journey game basic and language focused. I have a big map and we try to move our butterflies from Wisconsin to Mexico by answering questions (in Spanish, of course). You can do competitively in teams or work together as a group.
More Monarch Butterfly Activities from Spanish Teachers
Two of my favorite elementary Spanish teachers have excellent resources for learning about Monarch butterflies. Don't miss their ideas and materials!
Fun for Spanish Teachers
Blog post about teaching Monarch butterfly migration
Butterfly life cycle for Spanish class in TpT – This resource has a song, flashcards, a game, a coloring page and more.
Monarca va a Michoacán – A Beginning Spanish Story in TpT. – This is perfect for TPRS! It includes a story, a PowerPoint version of the story, picture cards for retelling, story boards for different levels and a memory game
Mundo de Pepita
Blog post titled Resources for Teaching about Mariposas in Your Spanish Classroom
Blog post about Monarch butterfly migration and learning resources
Mariposas Butterfly Life Cycle Theme Activity Pack & Spanish Printable Minibook in TpT. This is a wonderful set of materials. It includes a "Pepita y la mariposa" printable minibook, 2 sets of picture cards for the life cycle of a butterfly, game ideas for the picture cards, posters, activitiy pages, an illustrated poem and more.
If you haven't taught a Monarch butterfly theme in your class, jump in and give it a try. There are many more Monarch butterfly activities online, and it is an excellent way to teach language and culture.