Spanish color words let kids describe their world and they also lend themselves to lots of fun activities. That's why colors in Spanish are often some of the first words children learn. Here are our favorite songs, videos, games and activities to learn Spanish for kids with colors.
Be sure to check out our other Spanish for Kids vocabulary activities arranged by theme. We have lots of ideas and materials for you to share with children.
Learn Spanish Colors in Songs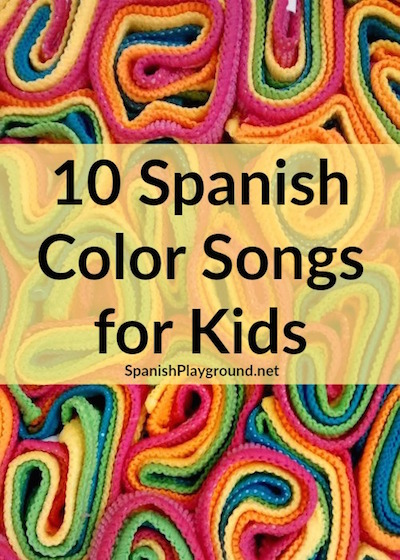 When they sing, kids learn Spanish colors and the correct pronunciation. Use objects and movement to relate the words to the colors to make songs fun and more effective learning. Check out 10 of our favorite Spanish color songs for kids.
Learn Spanish for Kids: Colors in Videos
Colors are visual, so it makes sense to take advantage of the combination of images and native speaker Spanish you can get with videos.
Learn Spanish Colors in Games
.
You can also play games that focus specifically on learning Spanish color words. Try this active Spanish Color Game: Camino De Colores.
This fun hiding game uses paper cups of different colors: Spanish Game for Kids: Paper Cups for Hiding and these are Spanish Matching Games with Plastic Eggs.
I often read Brown Bear, Brown Bear by Bill Martin Jr. and Eric Carle to my beginning Spanish learners. It's a great book for learning Spanish colors and animals. Try these I Spy Games for Brown Bear Brown Bear if you are reading it with your kids.
Learn Spanish Colors with Activities
There are lots of fun ways learn Spanish for kids with colors in crafts and printable pages.
Flower Activities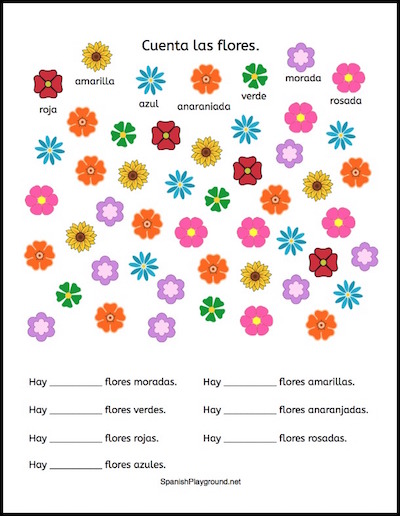 Flowers are a natural way to learn about colors. You can find a great selection of printable activities, crafts and the ebook Flores de Colores here: Learn Spanish Colors with Flowers.
Spanish Coloring Pages
Printable coloring activities can be a good way for kids to learn Spanish color words. Some printable pages focus specifically on learning colors in Spanish. In addition, you can use coloring pages that tell stories or teach other vocabulary to reinforce color words.
For printable activities that specifically teach color words, try these Spanish Color Words: Printable Coloring Pages and Spanish Color Words: Rhymes to Print and Color.
If you are working with beginning readers, these Printable Spanish Counting and Color Activities are lots of fun and a great way to reinforce color and number vocabulary.
Several of these mandala coloring pages also have instructions using Spanish color words: Mandala Coloring Pages for Spanish Learners.
In addition, you can introduce Spanish color words into any coloring activity. For example, these Printable Spanish Posters and Coloring Pages for Spring or these Spanish Proverbs: Posters and Coloring Pages work well for talking about Spanish colors.
You can also use story coloring books to introduce and reinforce Spanish color words. Debajo de un Botón: A Story and Coloring Book is a traditional song with a limited amount of vocabulary. It's perfect for coloring and asking ¿De qué color es el botón?
Los Pollitos: A Story and Coloring Book is another traditional song that tells a story. After kids color the pages, you can ask ¿De qué color es el cielo? ¿De qué color son los árboles? ¿De qué color son los pollitos? as a way to reinforce Spanish color words.
If you are looking for coloring pages with text in Spanish, be sure to check out Spanish Coloring Pages: Free Download from Song School Spanish.   The coloring pages reinforce common Spanish vocabulary and phrases.
Spanish Coloring Pages for Holidays
Holidays are an opportunity to learn Spanish for kids with colors and other basic vocabulary. Whether they are learning about the cultures of other countries or celebrating their own culture, we can use colors to describe holiday words.
For example, for Christmas, these Spanish Color-by-Number Christmas Pages: Nativity and Piñata, and this Spanish Christmas Color by Number both have piñatas and nativity scenes and also teach Spanish color words.
For Day of the Dead, this Spanish Color-By-Number: Easy Picture for Día de los Muertos and this Spanish Color-by-Number Calavera combine color vocabulary and the culture of Día de los muertos.
Although Thanksgiving is not traditional in other countries, many Latinos in United States celebrate the holiday. This printable turkey Spanish Colors: Thanksgiving Color-By-Word is a fun way to learn colors in Spanish, and these Spanish Thanksgiving Vocabulary Coloring Pages teach lots of theme vocabulary.
In addition, these printable Father's Day cards are authentic resources you can use to learn Spanish colors and celebrate Dad: Día del Padre: Printable Cards to Color
Hands-on Spanish Color Activities
For the most part, I teach colors in context and use them in combination with other vocabulary. This set of six activities includes colors in Spanish, but also takes advantage of the activity to help kids learn more language: More Than Spanish Color Words – 6 Hands-On Activities
Of course, learning about colors and how them combine can be a hands-on activity in itself. Check out these color mixing activities for kids from Artful Parent.
Learn Spanish Colors in Online Activities
Online activities are also useful to learn Spanish for kids by associating colors with sounds. Just say the Spanish color words as children play game: Spanish Colors: Jackson Pollock Online Painting.
The Learn Spanish with Pictures online activities have photographs and structured questions for beginning learners. Many of the activities include colors in a natural context. Try Learn Spanish with Pictures: Three Little Birds to get an idea of how these activities include Spanish color words.
This online Spanish Poem for Children with Color and Nature Words also introduces kids to color words in context.
Spanish eBook to Learn Colors
There are lots of picture books with Spanish color words, including translations of classics like Mouse Paint and Brown Bear, Brown Bear What Do You See? I read lots of Spanish color books in class because they teach the colors in Spanish as well as other high-frequency vocabulary.
I also make ebooks in PDF format for my students and their families.  They can read them online or on devices, and they are more accessible because they are free.  If your working with Spanish color words, the ebook Busca los colores works really well. You can find the book here: Easy Spanish Books PDF for Kids.
Learn Spanish for Kids: Colors in Context
We all use colors when we talk to children. On the whole, it is best for kids to learn colors in the context of other themes and activities, whether it be fruit, clothing, or talking about a picture they have colored. Nevertheless, it is fine to reinforce color words with an activity, song or video. Kids love colors and we should make the most of their enthusiasm to help them learn Spanish.