Las mañanitas is a traditional song popular in Latin America. In Mexico, it is the equivalent of the Happy Birthday song in Spanish, in that everyone sings it at parties. Of course, it isn't really a happy birthday song in Spanish, because the words are entirely different. It does serve the same purpose though – recognizing the special person of the day.
Be sure to check out all our Spanish songs for kids. You'll find more traditional songs and also songs for Spanish learners arranged by vocabulary theme.
In other Latin American countries people sing Las mañanitas for birthdays too, and commonly sing it as a serenade on Mother's Day. It is definitely on my list of songs that all children learning Spanish should know. Below you can hear Sara of Music with Sara sing Las mañanitas.
Growing up, my children spent their summers in Mexico. Two of them have summer birthdays, so Las mañanitas were always a part of their celebrations. In Mexico, we sing the song before the cake is cut. This happy birthday song in Spanish has many verses, but at parties it is common to sing just the first two. These are first two verses of a common variation. You can find links to two printable designs of these lyrics at the end of this post. They are perfect for handing out to birthday party guests who might not know the words or for using in class to sing to a student who is celebrating a birthday.
Las mañanitas – Happy Birthday Song in Spanish
Éstas son las mañanitas
que cantaba el rey David.
Hoy por ser día de tu santo
te las cantamos a ti.
Despierta, mi bien, despierta;
mira que ya amaneció.
Ya los pajaritos cantan;
la luna ya se metió.
Because the song is traditional, there are many variations. These are a few of the most common differences:
– The line Hoy por ser día de tu santo refers to the tradition of a name day. In the past, it was common to name a child with the name of the patron saint that corresponded to the day the child was born. There is also a variation that changes that line to hoy por ser tu cumpleaños.
– In the line Despierta mi bien despierta, the words mi bien are sometimes replaced with the name of the person you are singing to.
– In some regions a ti is changed to aquí or así.
– The word pajaritos is sometimes sung pajarillos.
– In the last line of the second verse, the verb se metió is sometimes se escondió.
There are many recordings of Las mañanitas. One of the most famous is by Pedro Infante, but many contemporary and children's artists have also recorded the song.
Here is a wonderful recording by Music with Sara that she did just for Spanish Playground. It is the first two verses and matches the lyrics on the printable. It is clear and a perfect tempo for Spanish kids learning Spanish.
Link to Printable Happy Birthday Song in Spanish – Las Mañanitas
Lyrics to Birthday Song in Spanish – Design 1
Lyrics to Birthday Song in Spanish – Design 2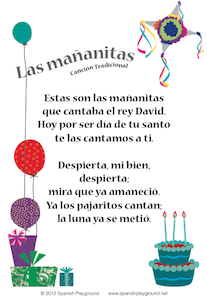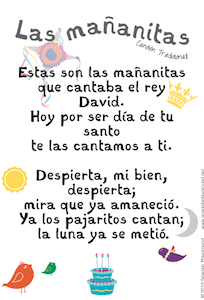 This post has Spanish birthday vocabulary: Learn Spanish with Pictures – A Birthday Party