I love creating Spanish learning materials, but there are plenty of times I depend on publishers and colleagues. There is no way a teacher can do it all, and there is no need! As you surely know, Teachers Pay Teachers can be a lifesaver. Below I'm sharing free spring printables in Spanish that I've used from TpT.
Of course, I select and tweak materials to fit my students and content. You'll find these free spring printables in Spanish are time savers and fit into many elementary programs.
Syllable Practice with Spring Words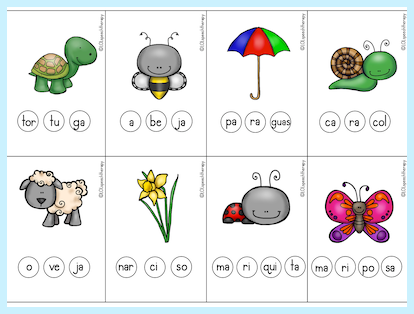 You can use this freebie for working with syllables and spring vocabulary from LOL Speech Therapy in lots of ways.
Years ago I discovered that speech and language therapists make fabulous language learning materials. Speech activities tend to be very interactive and hands-on. I have turned to their blogs for inspiration and always found fun, effective learning ideas I can adapt and use in Spanish.
In this freebie, in addition to picture cards, there are segmented word cards to use with play dough or other manipulatives to reinforce syllables. There are versions in color and black and white, so kids can color the cards too. 
Memory Game for Spring and Earth Day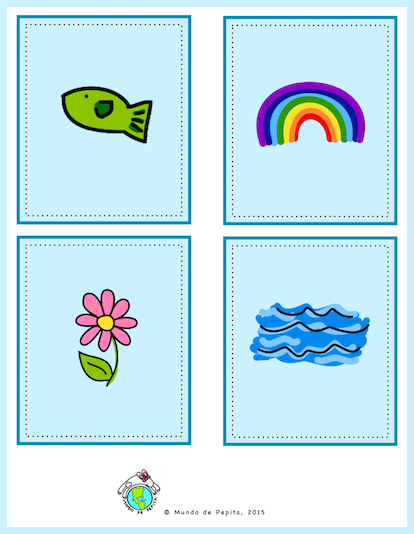 Do you love Mundo de Pepita as much as I do? I can count on her materials to engage students to create real learning and her art is amazing. The Mundo de Pepita blog is also a fabulous resource!
Mundo de Pepita has a Spanish Memory Game for Earth Day with spring vocabulary. Students match 10 word cards to picture cards.
Of course, you can use the word and picture cards for other activities too. These free spring printables are a practical, pretty resource – and they're free! I use them to supplement my Spanish Earth Day activities and videos.
Free Printable Spring Poem in Spanish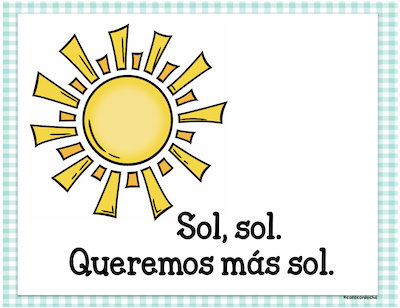 I love using short poems with young students. The poem Ven ya primavera from Café con Leche is perfect for Spanish learners. It's just a few lines long with patterned sentences and has the right vocabulary for little ones. The product has plenty of pretty images to support the poem, and you can also add actions and act it out.
Discover the Word Using Initial Sounds
In this Palabras escondidas activity from Cami Crea students write the initial sound of each picture to build a word. It's a fun activity, with lots of built-in repetition.
Of course, you'll want to go over the images as a group to be sure students know what they represent, but then they will be off and running. I love listening to them say the words aloud as they write in the letters.
All About Plants in Spanish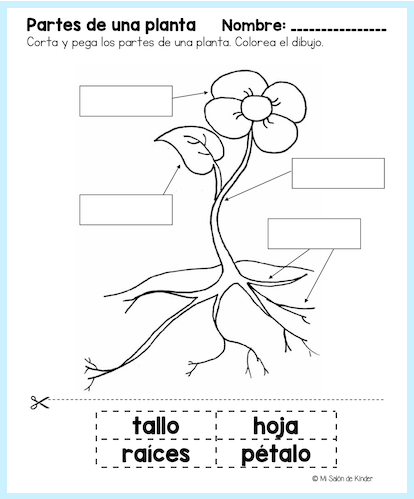 I like these All About Plants free spring printables in Spanish from Mi Salón de Kinder a lot. The PDF has activities for the life cycle of a plant, the parts of a plant and what plants need, with the right level vocabulary for many Spanish learners. 
The activity is marked for pre-K through 1st, but these activities are definitely appropriate for Spanish learners in all the early grades. I've used them as part of a theme that also includes this video conversation about plants with comprehension questions. 
Free Mini-Book Printables for Spring
Palabras de primavera is a mini-book from La clase creativa. It is available in a color version and also in black and white. The text has patterned sentences that begin "En primavera yo veo…" and it has lots of fun spring vocabulary. 
I use the black and white version for kids to color. My students read mini-books over and over, and they love sharing them with family. One note, there is a small typo in the color version. You'll need to add an "a" so it says "una regadera". The black and white version is perfect. 
Spring Book with Gustar and Colors
La primavera is a book from Sonrisas que Inspiran Dual Language. The book has patterned sentences using gustar and color words to describe illustrations with flowers. 
Some of the flowers have yellow centers and the petals show the color in the text, so I took advantage to point to the petals and introduce "pétalos" as we talked about those pages. I've used this book in conjunction with our Learn Spanish Colors with Flowers activities.
Teachers Pay Teachers has so many resources it can be a challenge to sort through them. However, when you find materials you like, like these free spring printables in Spanish, it is so worth it! Do you have favorite TpT creators? I'd love to learn about them, so let me know in the comments.