As you probably know, Teachers Pay Teachers has Spanish activities for many themes at different levels. I buy materials when I am short on time and can find something that works well for my class. I also take advantage of TpT freebies, like these free Spanish winter activities.
These free Spanish winter activities reach different language and age levels. Several were perfect for my preschoolers, and others worked well with older students. They were all created by experienced, talented teachers and make excellent additions to a winter theme.
Read about more of my favorite Spanish TpT stores and check out free samples of their materials.
Free Spanish Winter Activities for Little Learners
Libro de números 1-5 – Edición de invierno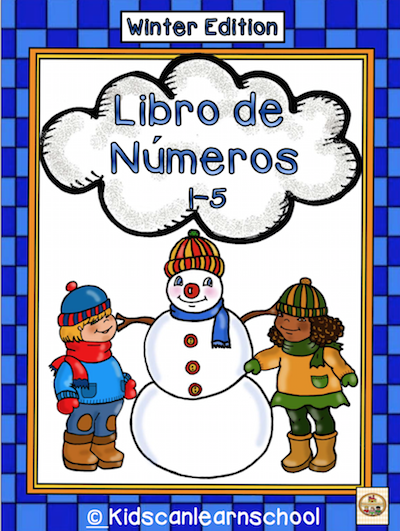 This mini-book from KidsCanLearnSchool is a good introduction to the question ¿Cuántos hay?, counting and number words in Spanish. The design is great; the pages increase in size so the numbers 1-5 are visible in the upper right corner. In addition, there is a version for kids to draw their own pictures and trace the words.
Download this free Spanish number activity from KidsCanLearnSchool.
Snowman Coloring Pages in Spanish
These snowman coloring pages from Fun for Spanish Teachers review basic color vocabulary, and you can also use them to reinforce the parts of the face and la cabeza, los brazos, las manos. Because there are two common ways to say snowman, the author includes versions with both titles – El muñeco de nieve and El hombre de nieve.
Download the free Spanish snowman coloring pages from Fun for Spanish Teachers.
Free Spanish Winter Activities for Emergent Readers
Muchos Mitones
This matching game from Gracieface Learning has 30 pairs of mittens. Students match letters to pictures of words with that initial letter sound.
This is an excellent phonics activity for Spanish speakers. In addition, most of the words are familiar to Spanish learners (or worth learning!), so it also makes a fun and effective vocabulary activity for an elementary Spanish class.
Download Muchos Mitones from Gracieface Learning.
The Cozy Mitten / El mitón calientito
This Spanish mini-book from Lidia Barbosa uses patterned sentences to retell the classic story of The Mitten. It has fill-in-the-blank sentences, with the animal word below the illustration, so students write in the word and then read the completed sentence. They can also color the black and white line drawings. This little book is nice practice for emergent readers.
You can get the free download of The Cozy Mitten / El mitón calientito from Lidia Barbosa
Estamos en enero
I love this January reader from Speak Up Language Learners. With this book, students practice the high-frequency verbs veo, hay, and me gusta and lots of winter vocabulary. There is a larger teacher version of the book in color. The student version is black and white and designed for students to trace the key vocabulary words. It's great!
Download the free Spanish January reader from Speak Up Language Learners.
Snowman Reading Activities
For more winter reading, check out our Easy Spanish Reading: Draw the Details with snowmen and our Spanish Snowman activity where students match sentences to pictures. Both of these activities are free here on Spanish Playground.
More Free Spanish Winter Activities Using Language in Context
These two resources have a larger range of vocabulary in a context that supports meaning. Both are excellent for developing reading comprehension with Spanish learners.
Los Renos
Reindeer are cool, and so is this Los renos presentation from Brittany Mora. Photos and cognates make it accessible to Spanish learners, and the content is engaging and will be new to many students. Meaningful content is key to effective, high-interest language learning!
You can download this free Spanish Reindeer presentation/reading from Brittany Mora.
The author also has a free Pueden, tienen, son graphic organizer to accompany Los renos.
Problemas de matemáticas de invierno
These addition and subtraction word problems from Gabriela Solis-Rodriguez are great reading practice as students use context and key words to understand the task. Because word problems are intentionally predictable, students will be familiar with the structure, and that increases comprehension. Also, this activity shows the mathematical operation kids need to set up their equation. It's fabulous support for the language. Consider using this activity with Spanish learners in upper elementary, where the math is review and aids comprehension.
In addition, this activity is particularly good for Spanish learners because the winter vocabulary (muñeco de nieve, chocolate caliente, mitones, copos de nieve, pingüinos, osos polares) is supported with cut-and-paste pictures to show the math.
Download these free Problemas de matemáticas de invierno from Gabriela Solis-Rodriguez.
These free Spanish winter activities are a just a sample of what is available on Teachers Pay Teachers. One of my resolutions this year is to work less, and the resources on TpT are going to be a big part of being able to do that. Do you have favorite TpT stores for Spanish materials? Please share them in the comments below!