Ser and tener are some of the first verbs language learners understand and use on a regular basis. Of course, mastering the forms of these verbs requires hearing them over and over. This Spanish PDF book targets the first person of the present tense of ser and tener.
This book is part of a set of photo-based PDF books for beginners. You can find the set here:
Los animales se presentan
Los animales se presentan features engaging photos of animals. The text is in the first person, so the animals are identifying themselves and mentioning a body part. For example, Soy un conejo. Tengo orejas largas. or Soy un cocodrilo. Tengo muchos dientes.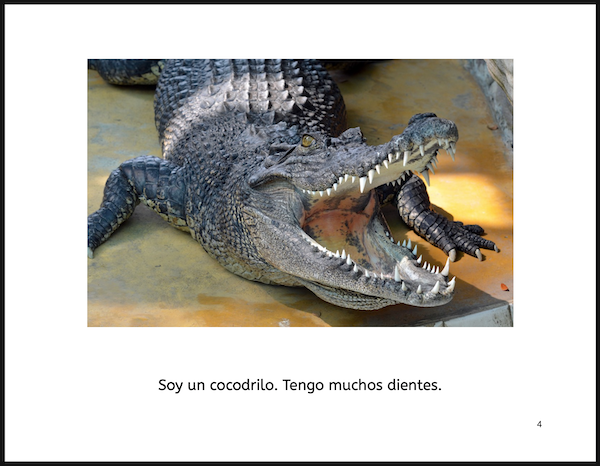 By making PDF Spanish books like this, I can focus on specific vocabulary that students are learning. This book has ten animals and nine different animal body parts (the dog at the end has a ball). There are few that overlap with people, but I also included ala, caparazón, cuernos, garras, and cola.
I like to make Spanish books in PDF because you can print the books or download them to display on any device. They are so convenient and families appreciate how easy they are to use. Whether you are working with a class, homeschooling, or speaking Spanish to your own children every day, consider making some books of your own.
Of course, we have lots of PDF books on Spanish Playground. Be sure you check out our resource page of Free Printable Spanish Books for Kids for more downloads.
Practice Ser and Tener
In addition to animals and body parts, the PDF book Los animales se presentan also focuses on the Spanish verbs ser and tener in the first person of the present tense. The repetition of simple patterned sentences using the two verbs and the photos make the text very easy to understand.
After reading the book, try activities like these to practice ser and tener:
As a group, use the same pattern to generate sentences for additional photos of animals.
Students work individually or in small groups to choose one or two photos and write text using the pattern. Combine them into a class book.
Students print photos, use magazines if you have them available, or draw illustrations to make their own book using the same pattern.
Use animal photos or simple student illustrations to make stick puppets. The "animals" walk around and introduce themselves using the sentences from the text. Add additional animals that you are learning.
Have students write new sentences with tener for the pictures in the book. This is a good way to review more body parts.
Using the same verbs, have students introduce themselves: Soy Ana. Tengo 7 años y tengo un hermano. Tengo un gato.
Use the book to prompt a conversation in the third person. Once students are familiar with the vocabulary, ask ¿Qué es? and then ¿Qué tiene? about each picture. They can read the text to help them answer, but be sure to have Es and Tiene displayed if they need the support.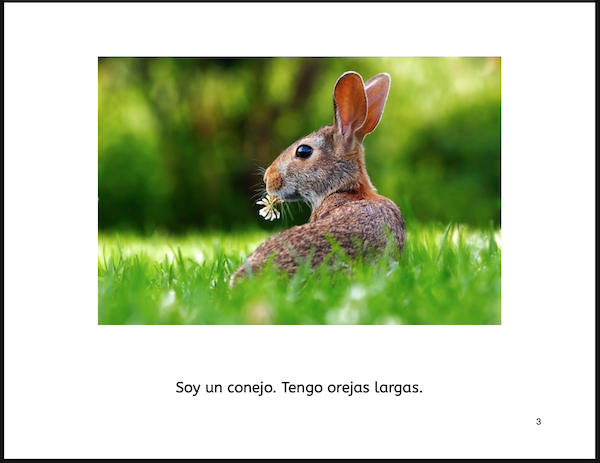 It's easy to make PDF books in Spanish to target specific vocabulary and verb forms. As you can see, they don't have to be complicated to be effective. Have you made books for your language learners? We'd love to hear about your experience in the comments.