Are you are looking for Spanish reading for the kids to take on vacation? Or hoping to expose them to more Spanish before school starts? Be sure to check out these free Spanish iBooks as a way to engage children with language.
You can also check out our Spanish reading for kids resource page for online books, printable reading activities and activities for favorite picture books.
iBooks is the e-book application for iPad, iPhone and Mac. Although I believe kids should primarily read print books, e-books like these free Spanish iBooks offer an inexpensive alternative to purchasing traditional books. In addition, many e-books have audio and interactive features that enhance language learning. E-books also are high-interest and portable – both important features for parents teaching children a second language.
We Are Teachers has an excellent article about using e-readers with kids: 10 Tips for Using E-Readers in the Classroom. Many of their tips apply to home as well.
E-books vary tremendously in appearance and features. Professional developers are producing beautiful books for publishing companies, while individuals are publishing stories on a small scale. The free Spanish iBooks below are at a variety of language levels and represent very different styles. They will give you an idea of what is available, so you can explore and find more e-books for your child.
All these titles were free Spanish iBooks at the time I wrote this article. Prices and selection do change frequently, so if these are no longer available, be sure to check out other books from the same publishers. Look for additional free Spanish iBooks too, and be sure to pass on your recommendations.
Free Spanish iBooks with Audio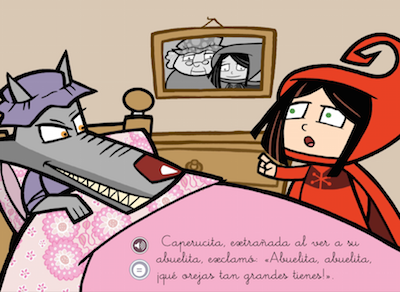 Caperucita roja / Little Red Riding Hood by Cristina Durán
This developer, ItBook, makes many high-quality ebooks with beautiful art and engaging activities. Caperucita roja / Little Red Riding Hood is designed for language learners. The story has native speaker audio and well-designed vocabulary and reading comprehension activities. For example, you'll find questions, word-to-picture match, and sequencing activities.
The familiar story makes this book an excellent choice for language learners. However, be aware that the text is in the script children use in schools in Spain. Of course, this is excellent for kids who are familiar with the font, but it is challenging for readers in the United States. Fortunately, there is excellent audio, so kids can also listen to the story.
Pumpkin Bear y su nuevo amigo by Gabrielle Chanel and Fernando Isern
This darling story is published by OSAAT Entertainment, and it is about learning languages! Pumpkin Bear is spending the summer with his grandmother and she tells him Si quieres hacer amigos alrededor del mundo, debes aprender a hablar otros idiomas. She goes on to talk about her experiences including dancing salsa in Puerto Rico and having black tea and barmbrack in Ireland.
The story has excellent native speaker audio, illustrations that support the text and a positive message about language learning.
Free Spanish iBooks Without Audio
¿Qué es el amor? By Agnes de Bezenac & Salem de Bezenac
This story repeats the question ¿Qué es el amor? ¿Tú sabes? and follows it by examples of ways family members express their love for each other. For example, Mi hermano mayor dice que es jugar a la pelota conmigo, aun cuando él preferiría jugar con sus carritos.
Family vocabulary creates the structure of this story. It also has other common words that will be familiar to beginning Spanish learners. This is a lovely story for early Spanish learners.
Esta es Doris by Marcus Brengesjö
This is a very simple story with short, easy-to-read sentences and basic vocabulary. The story introduces readers to Doris and her friends, and it is a good choice for early Spanish learners. Additional free Spanish iBooks continue the story of Doris, including Doris y el choque.
As I mentioned, all of these titles were available at no cost when I wrote this article. Prices do change often, but in general iBooks are an inexpensive source of Spanish for kids. Spend some time exploring the selection and let us know what you find. We love to hear about other free Spanish ibooks and titles that your kids enjoyed!
You may also be interested in this post about a Spanish ebook on issuu.