Making a family tree is a common activity in language classes. Kids label their family members in Spanish. Teachers ask questions, orally and in writing, about the relationship between family members. If teachers are short on time, we sometimes give kids fictional family trees to learn the vocabulary for family members in Spanish.
Family trees are an effective way of working with family vocabulary. I have to admit though, that I don't think they are very interesting if you stop with the family tree. I try to think of other ways to use them. Once kids have a family tree in front of them, try activities like these to teach family members in Spanish.
Check out our Spanish reading for kids resource page for more printable reading activities, activities for favorite picture books and online stories.
Activities to Teach Family Members in Spanish
Sing La Familia. Rockalingua's song La Familia is an excellent family tree activity. You can hear the song La Familia and download a free lyric sheet with a family tree.
Sorting activities. With their own tree, have kids sort relatives by gender or generation. If everyone has the same fictional tree, they can cut the tree apart and sort the family members. Be sure to display the fictional tree as a reference.
"All about" activities. Talk about family members on the family tree by asking about favorite food or favorite color (similar to all about me activities) and interests. Have kids include this information in the family tree originally. Be sure to give them time to get information they might not know from their families.
Identify who says what. Provide responses to a statement by one person on the family tree. You can give the people in the family names to make it easier.
Here are two printable examples. Thanks to Rockalingua for sharing their family tree image!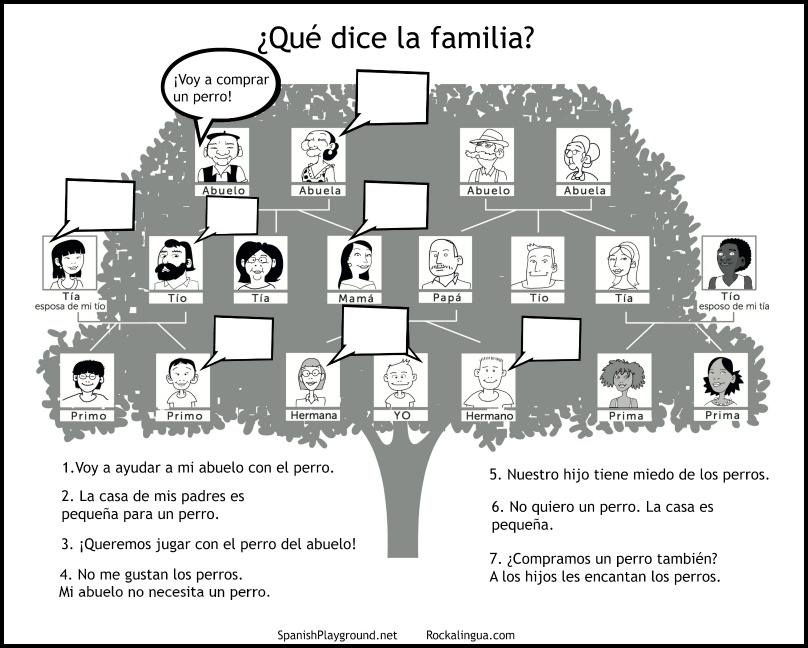 Download the ¿Qué dice la familia? activities to practice family members in Spanish.
¿Qué dice la familia? – Un nuevo trabajo
¿Qué dice la familia? – Un perro
Ask about activities. Use the family tree to ask kids who they want to do different activities with (go on a picnic, go swimming, have dinner, watch a movie, take a walk, etc.)
Use the family tree as a board game. Each child uses their own family tree and chooses a path using the relatives as spaces on a game board. You can also use a family tree like the one from Rockalingua in the example below. Roll one die. Kids talk about their own families, giving a fact about the family member they land on, or make an original sentence using the word.