The school year is winding down and a lot of us are looking for ways to pull together content and celebrate what kids have learned. Below you will find several end of the year Spanish activities. If you have a fun way to close the year, please share in comments!
End of the Year Spanish Printables
Over the years, I have finished the school year in different ways. I often do a simple activity I call Mi año escolar where students record their favorite books, songs, games and other information about what we have learned. The activity reminds children of all they have accomplished and is a perfect opportunity to sing favorite songs and read books they love.
Below you will find the Mi año escolar printable at two different levels. It is very basic (no color ink to spare, I'm afraid). Kids can decorate it with drawings to represent the information they record.
Before students do the activity, talk about the books, songs and games together as a group and list them on the board. With a little prompting, they will remember more of what they have done. Cantamos varias canciones de animales. ¿Recuerden la del caballito? – Sí, Caballito Blanco. Also, my students can sing lots of songs and describe books, but they do not necessarily remember the titles. They can record key words that they associate with the book or song.
Download this end of the year Spanish activity at the level that best fits your students. Try the easier version of Mi año escolar or the version of Mi año escolar for students with more language.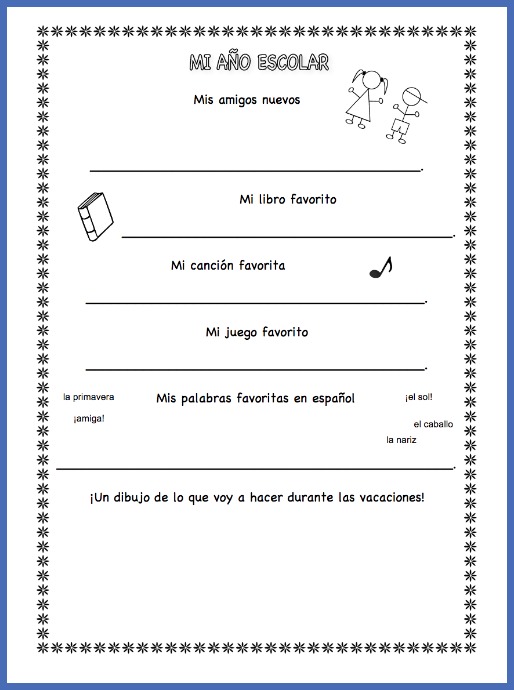 All About Me Projects
I usually think of All About Me as a project for early in the year as students are getting to know each other. However, I know teachers who use it as a way to pull together themes they have taught during the year. Students write about or present personal information, information about their families and friends, and talk about what they like and don't like.
Custom Literacy provided Spanish Playground readers with a simple all-about-me for young learners.  You can download this printable activity here.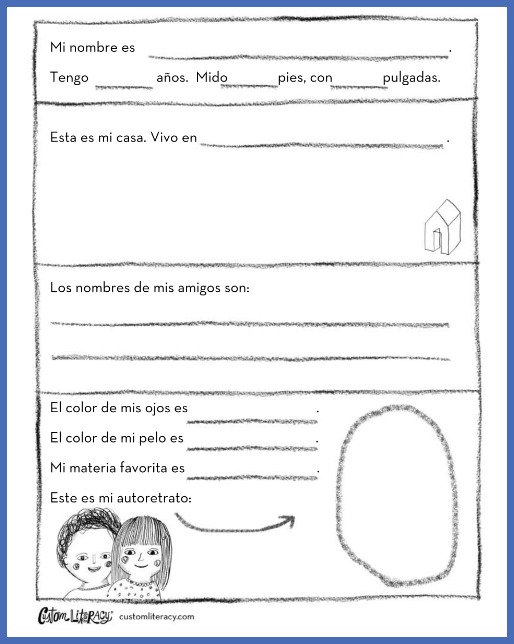 If your students do an all-about-me presentation, you might want to show this video as a model. You can find a transcript and printable listening comprehension questions here.
Class Memories
Recording memories of friends is also a wonderful way to close the year. Mundo de Pepita has a printable yearbook for children to sign and write messages, and Proud to be Primary has a great suggestion for making Good-Bye Stars.
You can also adapt this idea for a class memory wall using sticky notes for Spanish learners. You can read about the memory wall activity from Minds in Bloom here.
There are countless end of year Spanish activities you can do, but most important is taking time to connect and reflect. Feeling good about what they have accomplished leaves children positive about Spanish and helps them transition to the next school year.