You can use this elementary Spanish reading activity in different ways. The printable pages have 10 picture cards of children and a two-sentence description card for each picture. Download the free elementary Spanish reading at the end of the post.
There are many ways to use the picture cards and descriptions in this elementary Spanish reading practice. You can adapt the 10 ideas below to other pictures and write your own descriptions, too. For higher-level students, use more complicated pictures and text.
Check out our Spanish reading for kids resource page for more printable reading activities, activities for favorite picture books and online stories.
This album of photos on our Facebook page also has pictures with short captions describing the photos. In addition, you can find many elementary Spanish reading resources and printable materials on our reading resources page.
Elementary Spanish Reading with Pictures
These are a few of the activities you can do with these materials:
Do the activity following the instructions. First, students cut out the cards and descriptions. Then, they read and match each description to the picture. This is a good activity for fast finishers or for elementary Spanish reading centers.
Give students several description cards. Read a description aloud and have students read to identify which description they heard. Then, match the description card to the picture.
Have students glue the picture onto a larger sheet of paper with the description below. Have them label the picture with key words in the text. This is a good activity for elementary Spanish reading interactive notebooks.
Cut apart the cards and descriptions, and place them all face down. Play Memory to find matching pairs.
Give students a description and have them draw a picture based on the text. Then, match their pictures to the picture cards.
Give students a picture and the matching text. Describe the picture aloud using slightly different and additional language, but including two or three key words from the description. Have students underline words in the text that they hear in the oral description.
Give either a picture card or a description card to each student. Students look at the picture or read the description but do not show it to anyone else. They talk to their classmates to match the descriptions to the pictures. Students with pictures describe the picture in their own words, and the ones with descriptions ask questions based on the text.
Have students write a two-sentence description of several pictures. Depending on their level, they can do this before or after having done other activities with the cards. Then, students match their classmates' descriptions to the pictures.
Remove one or two key words from the description. Have students complete the sentence based on the picture.
Give students a set of pictures cards. Read the descriptions aloud and have students identify the pictures. Then, read several descriptions and have students place the cards in order.
Elementary Spanish Reading: Vocabulary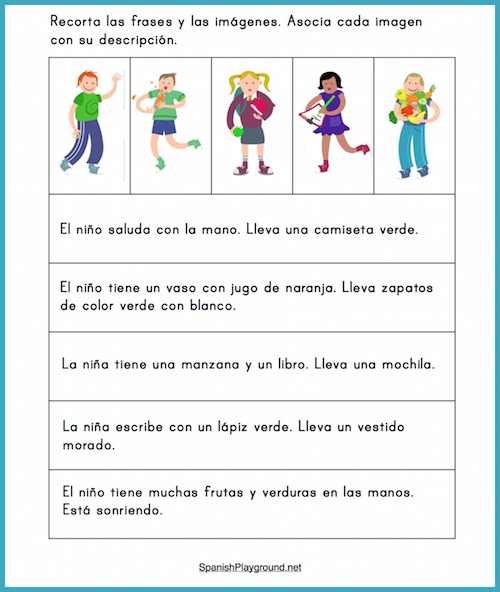 The sentences in the descriptions use these high-frequency words.
la niña
el niño
cepillarse
tener
llevar
saludar
escribir
sonreír
comer
los dientes
la mano
los pantalones
los calcetines
el vestido
los zapatos
la camiseta
el libro
la mochila
el lápiz
rosado
azul
verde
morado
blanco
los vasos
la bolsa
las papas
el agua
el jugo de naranja
las frutas
las verduras
la manzana
Download Elementary Spanish Reading Activity
Reading activity – Match text descriptions to picture cards
Pictures with descriptions are a versatile tool in the classroom. They are useful for elementary Spanish reading practice, and you can also use them for speaking and listening activities. Try different activities with pictures and short text descriptions in your reading lessons. If you use pictures and descriptions to teach elementary Spanish reading in other ways, please share in comments.