A good elementary Spanish curriculum makes teaching more effective and easier. With a well-structured scope and sequence, a Spanish curriculum for elementary school ensures that students learn core language and get enough exposure to master the material. Below you'll find elementary curriculum review and a few standouts for secondary too.
If you are a Spanish teacher, or teaching your kids at home, be sure to check out our Teach Kids Spanish: Resources and Strategies page. You'll find lots of helpful, inspiring information.
Many of us create our own curriculum by on many resources and making our own materials. Above all, the ACTFL World-Readiness Standards for Learning Languages inform language instruction, whether a published curriculum or one teachers build themselves.
The need to purchase a curriculum depends on several factors. For example, experienced teachers have an easier time creating a curriculum. Also, the size of the program and the goals the school make a difference. For many teachers, a quality elementary Spanish curriculum is a lifesaver.
In addition to elementary Spanish curriculum reviews, you will find resources with Spanish lessons and websites with free lessons. They have useful material to supplement a curriculum for elementary Spanish.
There are many elementary Spanish programs available. If you have a favorite, we would appreciate your recommendation!
Preschool Spanish Curriculum
I love teaching Spanish to preschoolers! It is a lot of work to keep little ones busy, so you will want to tap into songs and materials from a preschool Spanish curriculum. For example, take a look at these two programs.
Singalingo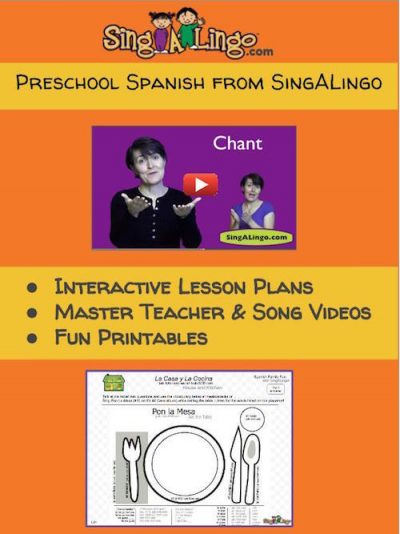 First, check out Singalingo preschool Spanish. I use their songs in my preschool classes, and they also have videos and lesson plans. Read about Preschool Spanish from SingALingo.
Monarca Language
Also, look at Monarca Language's preschool Spanish materials for ages 2-6. They center activities around themes and include crafts, games, songs and worksheets. Read about Preschool Spanish: Monarca Language Printables.
Elementary Spanish Curriculum Favorites
Sonrisas Spanish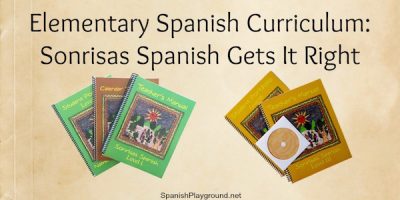 Sonrisas Spanish School has a fabulous 3-level elementary Spanish curriculum for pre-K- 6. Level III is also an excellent curriculum for middle school. Read about Sonrisas at Elementary Spanish Curriculum: Sonrisas Spanish Gets It Right
Sube
Sube publishes a great Spanish curriculum for pre-K – 5. Many schools use the Sube elementary Spanish curriculum, and there is also a homeschool option. Learn about the Spanish Curriculum for Children from Sube.
Risas y Sonrisas
Risas y Sonrisas is an award-winning K-5 Spanish curriculum for classroom or homeschool. You can get the details of this program at Risas y Sonrisas: Complete Spanish Curriculum for Classroom, After-school or Home School
Spanish for You!
Spanish for You! is a curriculum for grades 3-8 for self-study, homeschool, classroom or after-school programs. Read an overview of the Spanish Curriculum for Classroom or Home School by Spanish for You!
In addition, read about using Spanish for You! elementary curriculum for classroom use here Spanish Class Made Easy from Spanish for You. Also, check out Spanish Learning Songs from Spanish for You.
Conversa Books
Conversa Books makes materials for students from kindergarten to 8th grade based on TPRS (Teaching Proficiency Through Reading and Storytelling). Even if you haven't jumped into TRPS, check out these books as supplemental material at Spanish Curriculum from Conversa Books.
Spanish Champs
This Spanish elementary curriculum emphasizes oral communication for kids ages 4-10. Learn about the Spanish Curriculum by Spanish Champs. Also read about Spanish Champs Curriculum Level 2.
Sing 'n Speak Spanish
I wrote about the song and story components of the Sing 'n Speak Spanish elementary curriculum. Read about their books and music at Spanish Stories for Kids: Six Books with Audio from Sing 'n Speak Spanish and Spanish Learning Songs from Sing 'n Speak Spanish.
Elementary Spanish Lessons
The following companies create excellent elementary Spanish lessons. However, they do not designate a specific scope and sequence. In other words, you can use these elementary Spanish lessons as they best fit your students and schedule.
Rockalingua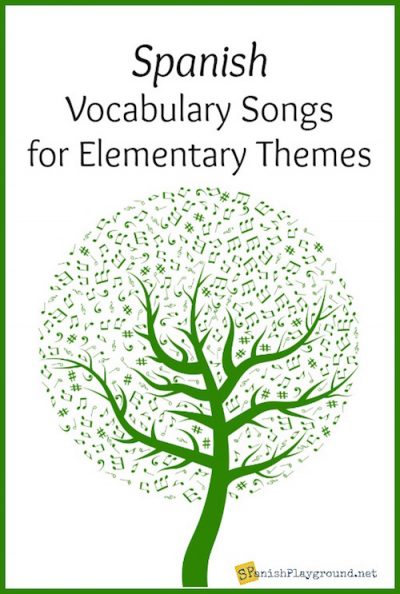 Rockalingua is one of the most useful resources available for elementary Spanish. They create songs, videos, games and printable materials. Their elementary Spanish activities are also an excellent resource for homeschooling.
I use Rockalingua, so you'll find lots of information about their materials on Spanish Playground. Read about their Spanish Vocabulary Songs for Elementary Themes, or get an overview of all the activities at Spanish Learning Songs by Rockalingua.
Whistlefritz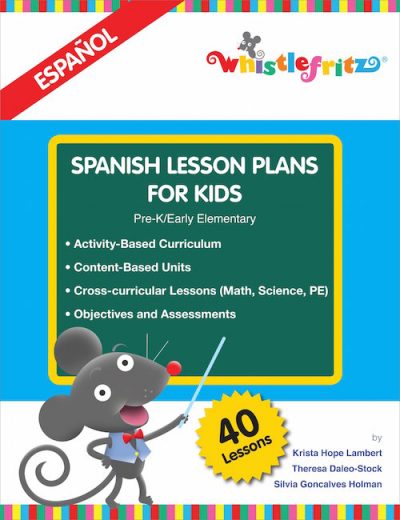 I use Whistlefritz songs in my classes, and I recommend their videos to parents of my students. They have recently added Spanish lesson plans to their learning materials. Read about Spanish Lesson Plans for Kids from Whistlefritz.
Language Together
Language Together publishes publishes picture books to support language learning. Their elementary Spanish books teach high-frequency vocabulary with simple sentences and fun stories.
In addition, the books come with a free Teacher's Guide packed with activities. Get details of the Elementary Spanish Books and Teacher's Guide from Language Together.
Languages4Kidz
Languages4Kidz publishes lesson plans and children's books for elementary Spanish and English learners. Their elementary Spanish materials meet a growing need for resources with more language to use with heritage speakers. Read about Elementary Spanish from Languages4Kidz and their Spanish lesson plans for elementary grades.
Let's Find Out
Let's Find Out is a Spanish weekly reader for kindergarten. If you work with heritage speakers, this is a must-have resource. It is also valuable with language learners in the early grades. I have used it for several years and love it! Learn about the Spanish Weekly Reader: Let's Find Out.
Middle School Spanish Curriculum
Several of the elementary Spanish programs above have material for the middle grades. Here are additional middle school Spanish curriculum suggestions.
Editorial Miraflores
Editorial Miraflores teaches Spanish to upper elementary and middle school students through cultural content, such as geography, art and history. Read Spanish Language and Culture from Miraflores for information.
Nuestra Historia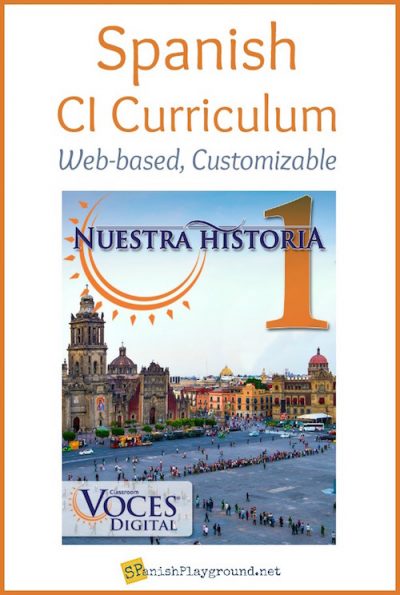 Nuestra Historia is a complete CI (Comprehensible Input) curriculum for Spanish from Voces Digital. It is a highly teachable CI curriculum with great support for teachers. Learn about the curriculum at CI Curriculum for Spanish: Nuestra Historia.
In addition to their curriculum, Nuestra Historia publishes leveled readers in Spanish. These readers are comprehensible input in the form of compelling stories. Learn about these novels for the classroom: Spanish Readers: Comprehensible Input Novels.
Nuestra Historia AP Spanish Curriculum
I recently had the chance to spend time working with the new AP Spanish curriculum Nuestra historia: Aprender y preparar. If you're teaching AP Spanish or know someone who is, be sure to have them take a look at this excellent digital resource.
Spanish Homeschool Curriculum
If you are wondering how to teach your child Spanish at home, a curriculum is a huge help. Several of the elementary Spanish curricula above have homeschool programs. In addition, I have used homeschool Spanish materials from the following programs.
Calico
I taught lessons with the homeschool Spanish curriculum by Calico. In addition, the company makes an elementary Spanish curriculum for classroom use. Read Homeschool Spanish Curriculum: Calico Spanish for information.
Speekee
The Speekee homeschool Spanish curriculum teaches language in a family setting. Read Homeschool Spanish Curriculum from Speekee for details of their engaging program.
Free Elementary Spanish Curriculum
If you use a Spanish curriculum for elementary students, you may want to supplement with free resources. For example, these two elementary Spanish programs are available at no cost.
First, try Salsa, a free elementary Spanish curriculum from Georgia Public Broadcasting. This award-winning series of free Spanish video lessons is for K-3, with 42 lessons available to watch online. Read Free Spanish videos from Georgia Public Broadcasting: Salsa to learn more.
Next, check out Mi mundo en palabras, another free elementary Spanish curriculum. The program is on an interactive website for kids, and the target audience is ages 7-9. However, many of the activities can be used by younger children with the help of an adult. See Mi mundo en palabras: Free Website Teaches Children Spanish for details.
Elementary Spanish Curriculum Recommendations
There are excellent elementary Spanish programs being developed all the time. Teachers on Teachers Pay Teachers are creating useful elementary Spanish curriculum packages. Moreover, major publishers continue to work to meet the demand for materials.
I have had the opportunity to use materials from several companies. However, it is impossible to keep up with the new Spanish programs for elementary school. If you have a favorite, please share your recommendation in the comments below.