I really appreciate teachers who write elementary Spanish blogs! On social media, I can ask a question and get helpful answers right away, but I love blogs for other reasons. There is a good chance you will, too. Below you'll find 7 elementary Spanish blogs you should know about.
If you are teaching kids Spanish at home or at school, be sure to check out our Teach Kids Spanish: Resources and Strategies page. You'll find lots of helpful, inspiring information.
Elementary Spanish blogs are a valuable source of support and inspiration. Teachers write blogs to reflect on what they are doing with their students and to share ideas and resources that have worked for them.
These teachers have taken the time to think about what will be helpful, select a topic, and write an article for me!
Okay, I know they aren't really writing for me, but it feels as if they are. They deal with the same issues I do and need the same resources I do. In addition to sharing specific activities, they write about topics like making language comprehensible, controlling prep time and effective classroom management.
I follow elementary Spanish blogs, and I'm surprised at how often I read about something that has been on my mind. Other times, a post reinforces something I know but haven't been thinking about – an idea I need to be reminded of. And then there are the times I read about something that never occurred to me! Whether it is an authentic resource, a classroom management strategy or a vocabulary game, I love discovering something new.
Several of these bloggers have Teachers Pay Teachers stores. Check out my list of Spanish TpT Stores: Top Teachers Sharing What Works.
These are 7 of my favorite elementary Spanish blogs. If you have others you like,  please share in the comments. I would love to discover more!
Elementary Spanish Blogs
Fun for Spanish Teachers
Carolina, an elementary Spanish teacher in Texas, writes the Fun for Spanish Teachers blog. Originally from Colombia, she shares her experience and fabulous activity ideas. Be sure to check out her social media channels too. She has some great videos of her classes on Instagram and the Fun for Spanish Teachers Facebook page has excellent posts too.
Mundo de Pepita
The Mundo de Pepita blog is by Julie, an elementary Spanish teacher in Maine. Julie is an amazing teacher, and she shares teaching tips, as well as lots of creative content. Julie is also the author-illustrator of the Mundo de Pepita materials for language learning (on TpT – highly recommended!). I love the resources Julie has complied on the Mundo de Pepita Pinterest boards, and she also moderates the very active Facebook group Teaching Spanish to Children.
Profe Valentina
Valentina Correa, originally from Colombia, is an elementary Spanish teacher in Chicago. She has a wonderful blog, Profe Valentina, where she shares a wide range of strategies and resources she uses in her classes.  She also has an excellent Instagram with lots of videos sharing practical teaching tips. Be sure to check it out here: Profe Valentina Instagram.
Señora Speedy
Señora Speedy teaches elementary Spanish and shares her experience and resources on a blog called Stories by Señora. She writes helpful descriptions of how she does activities and shares great photos of her students' work. I also really appreciate her reflections on the conference sessions she finds helpful. Check out the blog, and you can follow Señora Speedy on Facebook too.
Spanish for You
Debbie, a Spanish teacher in Illinois, writes the Spanish for You blog. The blog focuses on materials and activities for grades 3-8. The ideas are great for classroom or homeschool, and you can use many of them with the materials from the Spanish for You curriculum developed by Debbie. You can also follow Spanish for You on Facebook.
Rockalingua

We love Rockalingua for their Spanish learning songs, but the Rockalingua blog offers additional resources and support for teaching elementary Spanish. Many of the posts are collections of useful resources related to themes like transportation, animals or emotions. Of course, they also have useful ideas for teaching with Rockalingua materials.
Elementary Spanish Blogs for Home and Classroom
Spanish Mama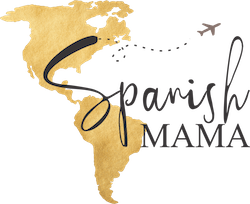 Elisabeth is an American teacher currently living in Peru with her family. The Spanish Mama blog is not strictly for elementary Spanish, but she has lots of resources to use with preschoolers, the early grades and at home. In addition to being a wonderful teacher (check out her posts on teaching without a textbook), Spanish Mama is a master at creating fabulous lists! If you're looking for book or video recommendations, chances are she'll have what you need. The Spanish Mama Facebook page is also super fun.
For the Love of Spanish
Kali is the Spanish teacher mom behind the blog For the Love of Spanish. She shares how she structures Spanish learning at home and activities she does with her kids, as well as tons of helpful resources. Much of what she writes about you can use in classrooms too. I particularly love the themed book lists she put together. She shares many of the books on the For the Love of Spanish Instagram.
These blogs are helpful to me, and my guess is you will find activities and ideas that work for you too. I'm sure there are more good elementary Spanish blogs out there, so please tell us your favorites in comments.