Spanish learners need the opportunity to practice using the words they know. As they practice speaking, they build confidence and fluency and also retain what they learn. These bingo-card style challenges each have 16 easy Spanish speaking activities for children to do at home.
There are different ways you can use the challenge card. The usual way is for kids to choose an activity, do it, and then color the square. You can also cut the squares apart, put them in a jar and draw out an activity to do.
These challenges are part of our free Summer Spanish, but of course you can use them at any time. They also make an excellent home connection for elementary Spanish classes. Our Spanish Activity Calendars are also a fun way to practice language skills, and they have interactive links to activities for every day of the months.
Check out our second challenge card with Spanish speaking practice for kids, too.
Video of Speaking Activities
You can see a few of the activities in the video below.
Easy Spanish Speaking Activities With Basic Words
Spanish learners know enough words to be able to do a variety of fun language tasks. They have learned colors, numbers, body parts, and words for common foods and objects. However, it's important for kids to keep using these words so they remember them.
The play challenge consists of easy Spanish speaking activities that give kids the opportunity to use words they know. The challenge has prompts for short activities using common words.
For many of the activities, kids choose words from the set of vocabulary they know, rather than having to recall specific words. For example, Escoge una foto de una persona e indica las partes del cuerpo (Choose a photo of a person. Point to and name the body parts.) or Siéntate debajo de la mesa y nombre 5 comidas que te gustan (Sit under the table and name 5 foods that you like). With these tasks, children can answer by naming body parts and foods that they remember.
Being able to choose the words they use makes it much easier for children to be successful and also allows kids of different ages and levels to participate.
Other easy Spanish speaking activities on the challenge use numbers, letters, or provide the vocabulary needed to do the task. For example, Cuenta las puertas o las ventanas de tu casa (Count the doors or windows in your house) or Cuenta hacia atrás de 20 a 0 (Count backwards from 20 to 0).
Listening practice is important too, so be sure to check out other resources on Spanish Playground like this easy Spanish listening practice using a photograph and questions.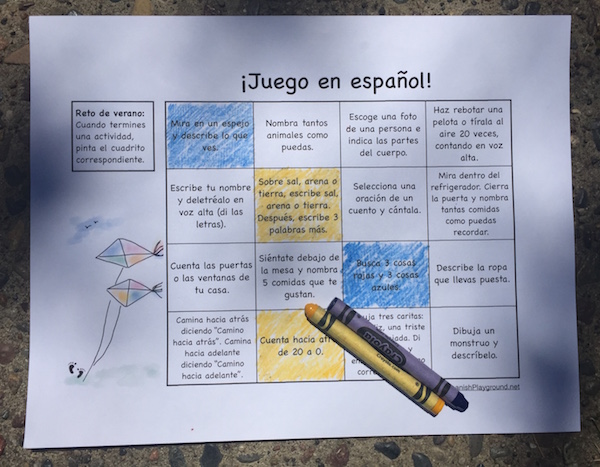 No-Prep Speaking Activities
The activities on the challenge are very short tasks that kids can do on their own (they don't require a partner or a group) with no special materials. The prompts encourage kids to speak Spanish – to say Spanish words out loud. Many involve saying only a few words, while others are open-ended. In either case, the activities can be done quickly and with no preparation.
2 Levels of Easy Spanish Speaking Activities
Below you will find two levels of the Juego en Español challenge. Both levels have easy Spanish speaking activities, but the prompts on Level 2 encourage children to say a little more, assuming they have more vocabulary.
Parents and teachers can choose the appropriate level, or draw from both challenges. They can also adapt and expand on the prompts, and think of other prompts to keep kids practicing their Spanish.
English Versions of the Speaking Activities
We have included English versions of the challenges to make it easier for parents and caregivers to support their Spanish learners. The English versions are also perfect for English language learners, so if you have children learning English in your community or school, be sure to share!
Download Easy Spanish Speaking Activities
Juego en español Level 1
Level 1 English Play Challenge
Juego en español Level 2
Level 2 English Play Challenge