Finding easy Spanish books has been one of my biggest challenges for years. Below, I'm sharing five easy Spanish books PDF for beginning learners. They are free downloads or you can read them online.
Check out all our Free Printable Spanish Books for Kids for more printable books, mini-books and stories with cutouts and activities.
Reading aloud is one of the best ways to help children learn language, so I tell stories and read to my students, but it is hard to find the material for children who are just starting to learn Spanish. My solution has been to use easy Spanish books in PDF, as you'll see below. Of course, I love picture books and do read them to my students, but there are challenges.
The Challenge of Picture Books
Picture books are difficult and my students have limited vocabularies. Even easy pictures books have many words and structures Spanish learners don't understand.
Kids expect to understand and enjoy a story. This is a wonderful thing! My students love stories because they have been read to in English. It is difficult for me to create that experience for them as a beginners in a second language.
Illustrators are not trying to create comprehensible input. The art is an important part of picture books, but artists are not trying to tell the entire story in pictures. So, illustrations help, but picture books are still hard to understand.
Families need access. I want to make the stories I read in class available to the families of my students. Easy online Spanish stories are the best way for me to reach a number of families.
Easy Spanish Books PDF from Spanish Playground
Given the challenges of finding and sharing easy picture books, it is easier for me to create my own easy Spanish books PDF downloads so that I can control the language and share them with families. For my very beginning learners, these easy Spanish books PDF work well.
Easy Spanish Books PDF Features
Short, complete sentences
Useful, high-frequency vocabulary
Patterns and repetition of vocabulary and sentence structure.
A close correspondence between the illustrations and the text. In other words, pictures that help make the meaning of the text clear.
Notes for parents and a translation at the end of the book.
5 Easy Spanish Books in PDF
You can download and print these PDFs, read the books online or download them to your devices. On Apple devices, you can choose the option to open a PDF in iBooks.
The 5 titles are Es primavera, ¿Uno, dos, tal vez tres?, Busca los colores, ¿Qué hay en un árbol? and Grande y pequeño.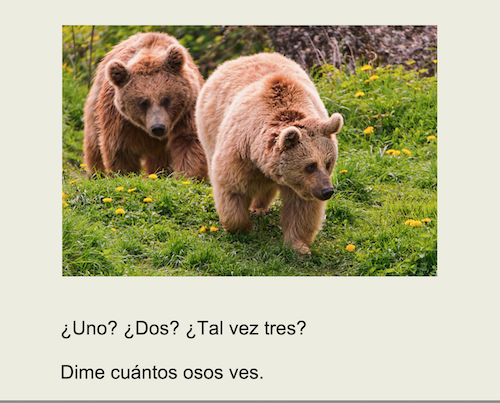 These easy Spanish books PDF are a useful for children who are just beginning to study Spanish. Certainly our goal is to develop language skills so that kids can read and enjoy picture books in Spanish, but these PDFs are a good place to start.