Earth Day in Spanish is Día de la Tierra. It is celebrated all over the world on April 22. Earth Day is an excellent opportunity to raise awareness of our impact on the Earth and share the beauty of this amazing planet with kids. Spanish activities that deal with protecting the Earth include lots of verbs and natural world vocabulary.
Below you will find activities for talking about the planet with Spanish learners at a variety of levels. You can also enter a wonderful giveaway with lots of books! Two of my favorite new bilingual books are included in the giveaway: El agua rueda, el agua sube and Llámame árbol, both published by Lee and Low.
Spanish Earth Day Coloring Sheet

This Los Colores del Planeta Tierra printable coloring sheet and reading is perfect for little Spanish learners. The sentences below the pictures tell children what color to make the objects. For children who are not reading, parents or teachers can read the sentences aloud and reinforce the color words by pointing out objects of that color. It is a fun activity for talking about Earth Day in Spanish.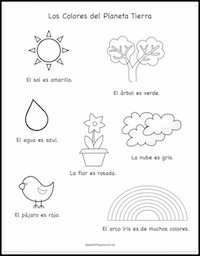 Download the free Los Colores del Planeta Tierra printable.
Spanish Earth Day Video
This short Spanish video has reminders of ways we can take care of the planet. It's perfect for Spanish class!
Earth Day Yoga
Yoga is a wonderful way to speak Spanish with children. Spanish Playground and Kids Yoga Stories bring you monthly posts for teaching children yoga and Spanish.  These suggestions relate to our April theme of Earth Day.
Kids Yoga Stories has a post about doing yoga with kids for Earth Day. There you will find a three-pose flow sequence to do with children. When they do these three poses, children are pretending to be a seed sprouting out of the ground, then a tree that sways in the wind, and finally say hello to the sun. As you do the yoga poses together talk about what children are doing use the vocabulary: semilla, árbol and saludar al sol.
Kids Yoga Stories also has books that are perfect for celebrating Earth Day in Spanish. Two of my favorites are Sofía en una aventura por la selva and Buenas noches, Mundo Animal. These picture books in Spanish weave yoga poses into the story, so kids move and learn. It's a wonderful way to learn about the planet and Spanish! Enter the giveaway below for a chance to win beautiful books and music to celebrate Earth Day!
Spanish Earth Day Matching and Memory Game

This 10 Maneras de Ayudar al Planeta Tierra game has 10 phrases stating ways we can help protect the Earth. Kids match them to images of key words in the sentences. For example, they match Apaga las luces to the picture of a lamp. This game can be played as a matching game or a memory game. This
Download the 10 Maneras de Ayudar al Planeta Tierra printable game.
Recycling Activity with Photo from Paraguay
The activity uses a photo from Concepción Paraguay to engage children with ideas and language about the environment. I like to point out that concern for the Earth is global. Because the language is supported with pictures it is simple enough to use with beginning learners.
Download the printable activity here.
If you would rather use the photo and activity online, you can find it here: Spanish Earth Day: Recycling Activity.
Spanish Reading Activity: El día del Peatón in Bolivia
This reading comprehension activity features a paragraph and photos that introduce kids to an event in Cochabomba, Bolivia. The short paragraph uses familiar vocabulary. Kids also have a chance to write about what is happening in the photos. It is an excellent activity for talking about Earth Day in Spanish.
Download the printable activity here.
If you would rather use the photo and activity online, you can find it here: Spanish Earth Day Reading: El Día del Peatón.
Spanish Earth Day Books and Music
Water Rolls, Water Rises, by Pat Mora
Celebrate the wonders of the water on planet Earth with this poetic and illustrative bilingual book.
Call Me Tree, by Maya Christina Gonzalez
Act out this beautiful bilingual story following a young child mimicking the growth of a tree.
Kings & Queens of the Forest CD, by Kira Willey
Act out a journey to the forest with Kira Willey's enchanting yoga-inspired music.
Imaginations 2, by Carolyn Clarke
Use guided imagery to explore nature while learning to calm the mind and body with these relaxation stories.
Sophia's Jungle Adventure, by Giselle Shardlow
Join Sophia and her family on a jungle adventure while learning to appreciate jungle life and doing yoga along the way.
Compost Stew, by Mary McKenna Siddals
Dig into composting with this engaging rhyming text.
Too Much Junk song, by Elska
Get inspired to enjoy nature and simplify your life with this new musical adventure.
Backyard Garden CD, by Earthworm Ensemble
Celebrate nature, green living, and gardening with this uplifting new music.
Change the World Before Bedtime, by Mark Kimball Moulton, Josh Chalmers, and Karen Good
Find out how the simple things in life that can inspire huge differences that change the world.
Picture a Tree, by Barbara Reid
Discover new ways to experience trees in this book with stunning imagery.
This Tree Counts, by Alison Formento and Sarah Snow
Practice counting with animals that live in trees.
Miss Fox's Class Goes Green, by Eileen Spinelli and Anne Kennedy
Join Miss Fox as she teaches her forest animal students how to go green.

In the Garden with Dr. Carver, by Susan Grigsby and Nicole Tadgell
Step into the historical world of Dr. Carver as he teaches children about gardening.
What's So Special About Planet Earth?, by Robert E. Wells
Learn how planet Earth is different from other planets.
Polar Bear, Why is Your World Melting?, by Robert E. Wells
Learn why and how the world is getting warmer and what we can do about it.
Earth Day CD and Recycled Musical Activities eBook, by Daria Marmaluk Hajioannou
Sing and dance to catchy folk music to celebrate our beautiful rainbow world.
Nature Anatomy, by Julia Rothman
Take a look at nature in a new way with this book that explains all about the nature with sketches.
Catch the Wind, Harness the Sun, by Michael J. Caduto
Learn about renewable energy with 22 activities on producing and using it.
Ecology eBook – Ecology Explorations, by Eva Varga
Explore your local ecosystems with this hands-on ten-week life science curriculum.
When the Animals Saved Earth, by Alexis York Lumbard
Read a tale about how animals teach humans to restore balance in nature.
Just Like Me, Climbing a Tree, by Durga Yael Bernhard
Explore trees all over the world and see what a child sees when climbing those trees