This Día de los Muertos video is a short conversation about building a Day of the Dead altar. This tradition is an important part of Mexican culture. Watch the video and try the Día de los Muertos video listening activities below.

In addition, be sure to check out our Spanish Videos resource page for other fun videos and more listening comprehension activities.  We also have a set of Easy Day of the Dead Crafts for Spanish Class and a Day of the Dead Reading Activity where kids match pictures to text.
Día de los Muertos Video: Pre-Listening Activities
Before I watch the video with my students, we predict what the conversation will be about. To do this, you can pause the video at the beginning and ask them what they can see and what they think the people will do and talk about. I do this after my students have been introduced to the traditions of Day of the Dead.
For example, you can ask students to describe what they see with questions like ¿Qué colores ves? and ¿Cuántas personas hay?. You can also ask ¿Qué van a hacer estas personas?
Día de los Muertos Video
We watch the video all the way through once before doing activities. All these easy Spanish conversations videos are short and comprehensible, so kids will understand a lot the first time. In addition, watching the whole video provides important context that contributes to understanding when they watch it again. You can watch the video below or on YouTube: Día de Muertos | Mexican Culture | Learn Spanish.
Listening Activities for Día de los Muertos
Get the printable Día de los Muertos comprehension activities.
Circle the Word
The listening activities include a circle-the-word supported by pictures. Read the words together before watching the video a second time. Pre-readers can also do this activity by using the pictures.
¿Quién lo dice?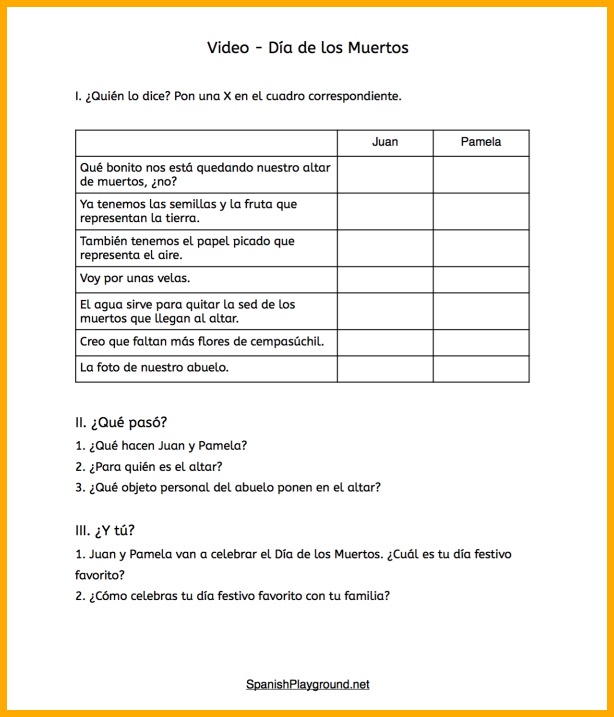 In this activity, learners identify which speaker said the phrase. Kids may be able to complete parts of the table without watching the video again. Also, if you're working with pre-readers, read the phrases to them. Then, watch again to check and complete answers.
¿Qué pasó?
This section has general listening comprehension questions about the video. The questions on the printable activities are:
1. ¿Qué hacen Juan y Pamela?
2. ¿Para quién es el altar?
3. ¿Qué objeto personal del abuelo ponen en el altar?
¿Y tú? Personal Questions
Asking personal questions makes the video content relevant to learners and lets kids talk about themselves in Spanish.
The questions we included on the printable activities for the Día de Muertos video are:
1. Juan y Pamela van a celebrar el Día de los Muertos. ¿Cuál es tu día festivo favorito?
2. ¿Cómo celebras tu día festivo favorito?
Of course, you can personalize the questions even more. For example, ask kids about their cultural traditions related to holidays. If appropriate, you can talk about how they remember and honor loved ones who have died.
We hope these listening comprehension activities are an easy way to help your learners engage with the video. Let us know how they work for you!
You may also like this video about making a tapete or carpet for Dia de los Muertos. It's great to use in conjunction with the Día de los Muertos video above.