Are you looking for a Day of the Dead reading for Spanish students? If so, check out these two readings about Día de los Muertos at different levels. Both give students an overview of the important elements of the celebration, so you can choose the level that best works for your learners.
A friend from the state of Colima, Mexico created these two Spanish readings for Spanish Playground readers. The photo on the printable is an altar her family made in their home.
Be sure to check out our Día de los Muertos playlist of videos and songs, too. Also, this Día de los Muertos video conversation with listening activities repeats much of the information in the readings.
Day of the Dead Spanish E-Book
This Day of the Dead e-book is an excellent way to introduce beginning Spanish learners to the traditions of Día de los Muertos. It presents important elements of the celebration with colorful photos including el altar, las velas, los vasos de agua, la cruz con sal, el papel picado,las flores de cempasúchil, la foto, and el cementerio.
The photos are beautiful, so I love to read this ebook on a tablet or other device. Of course, it's a PDF, so you can also print it if you prefer.
Download the Día de los Muertos e-book.
One-Page Día de los Muertos Spanish Reading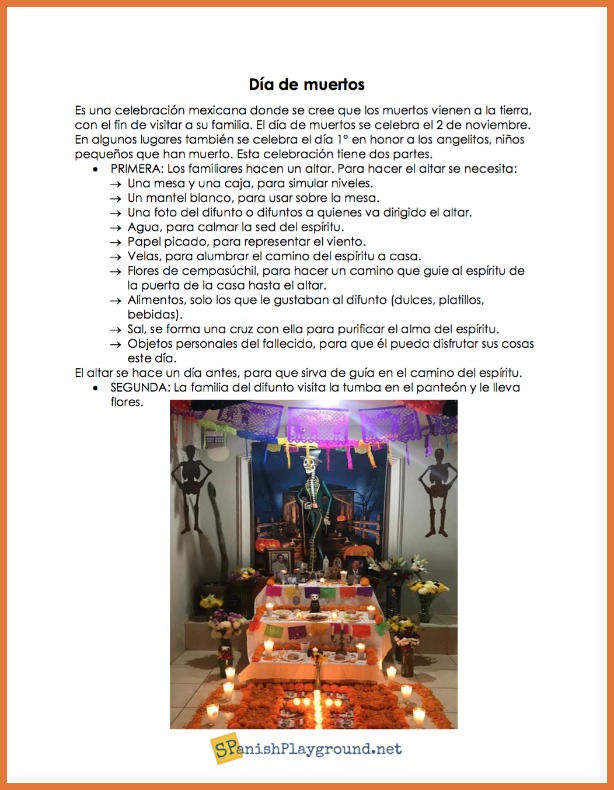 The printable one-page Day of the Dead Spanish reading is at a higher level than the e-book, and there is some vocabulary that students will not have seen in other contexts. For example, to refer to the person who died, the reading uses the word difunto and fallecido. With support, students will derive the meaning of these words from context.
The reading describes the celebration as having two parts. First, families build the altar and then they go to the cemetery to decorate graves.
People celebrate Día de los Muertos in different ways, so it's important to mention to students that this details like the color of the blanket will vary. However, the elements of the altar are widely recognized throughout Mexico.
Download the Day of the Dead one-page reading.
These two readings help Spanish students learn about Día de los Muertos and the important custom of honoring loved ones who have died. Many thanks to Minerva for creating these materials for Spanish Playground!
You can build on this information with additional activities including video, crafts and even creating an altar. How do you share Día de los Muertos with your students? Share your favorite activities in the comments below.