Mundo de Pepita created these culture activities for Spanish class to introduce children to the art of the arpillera. I love it because they combine culture, hands-on language learning and reading.
Mundo de Pepita makes a wide variety of quality materials for elementary Spanish. Explore her curriculum, as well as many games, stories and culture activities for Spanish class in the Mundo de Pepita TpT store.
The Spanish educator-artist who creates Mundo de Pepita also writes a must-read blog with strategies, resources and inspiration for teachers.
In addition, you can find more of Mundo de Pepita's work on Spanish Playground. Check out the printable mini-book in the post about my favorite TpT stores and this cute activity book for summer. Many thanks to Mundo de Pepita for helping make Summer Spanish Read and Play extra fun and useful kids!
Arpilleras
Arpilleras are an artisan craft made in Chile, Bolivia, Perú and Colombia. Specifically, these textile scenes that tell stories of daily life. For instance, they show planting and harvesting, tending animals, celebrating family events. The scenes make perfect culture activities for Spanish class because they include food, animal, and natural world vocabulary.
With older children, you can also discuss the origins of the arpillera as part of these culture activities for Spanish class. The hand-sewn craft originated in Chile as a protest of the injustices of the Pinochet regime. You can see examples of original arpilleras and read more about the history here.
Arpillera Culture Activities for Spanish Class
Assemble an Arpillera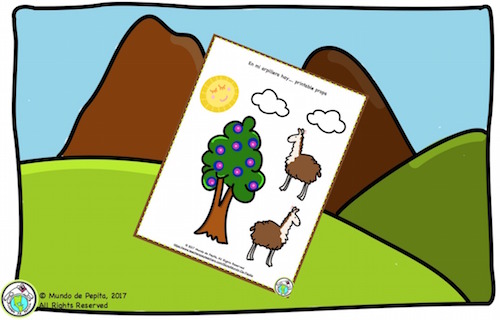 Mundo de Pepita created a colorful printable version of an arpillera with a mountain background and fun figures.
As children assemble the scene, they practice listening and speaking. See the guide in the download for suggestions.
Hands-on learning is best! In this case, children understand and remember more because they holding and move the figures.
With the scene and figures, kids practice key words and numbers. You can also use the figures to practice colors, prepositions and more.
Arpillera Mini-Book
These culture activities for Spanish class also include a mini-book, La arpillera de Julieta. The mini-book
Reinforces the verb hay, numbers and key vocabulary.
Provides the opportunity for importnat repetition as kids color their book and read it again and again.
Makes an excellent home connection for children to share with families.
Download the Printable Arpillera Activities
La arpillera de Julieta from Mundo de Pepita

Arpillera Craft
Mundo de Pepita has an arpillera craft to add to the culture activities for Spanish class. Specifically, students make their own background scene as well as 3-D figures. Find the complete tutorial here: Making a Simple Arpillera with Kids.
Arpilleras include figures and objects from everyday life. They are an excellent way to practice language and learn about an important part of Andean culture. It's easy to do with these culture activities for Spanish class from Mundo de Pepita!