When I began to teach in the late 80s, Stephen Krashen's input hypothesis of second-language acquisition was revolutionizing language classes. We were exploring a range of comprehensible input strategies and finding what worked best with our teaching styles.
I feel fortunate to have been in on those early years when there was a growing understanding of the process and the goal. The focus on TPRS hadn't yet emerged, and the techniques we used to create comprehensible input were creative, varied and personal. Since that time, we have made fabulous progress in developing CI strategies, but the conversation has also gotten more complicated. For many teachers, it can be confusing and intimidating.
In The Big CI Book by Ben Slavic, I was thrilled to discover an excellent collection of comprehensible input strategies. Clear, specific and readable, The Big CI Book is a complete resource to support teachers as they set the stage for language acquisition by providing comprehensible input.  The Big CI Book is available from Teacher's Discovery.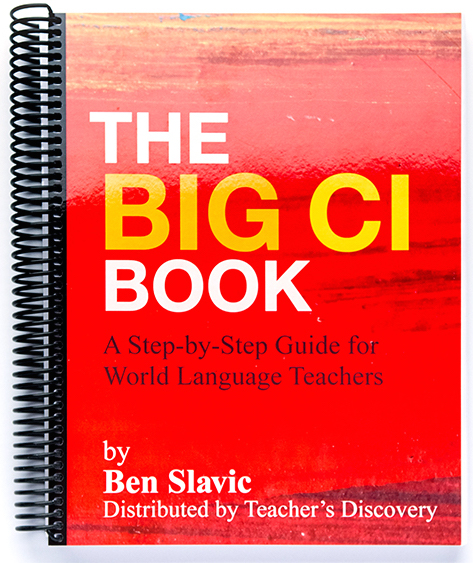 Experience, Experts and Examples
Experience
Author Ben Slavic has been teaching for over 30 years at the middle school and high school level. He is a nationally recognized TPRS and Comprehensible Input expert.
In The Big CI book, the author shares strategies and skills, but they are valuable because they are rooted in his experience with students. Ben Slavic knows language acquisition, but just as important, he knows teenagers and their development. He knows what makes them amazing and what makes them difficult, and he applies that knowledge to the challenges of teaching today.
Experts and Examples
Ben Slavic's voice is one of many in this book. He draws on the skills and strategies of expert CI teachers and shares the experiences of many teachers he works with in his professional learning community.
The author introduces these experts and other teachers to give detailed explanations and examples of CI strategies. They describe how they teach and in addition respond to questions from other teachers. There is a wealth of experience and insight in this book!
Yes, it is a lot of information, but these detailed explanations and examples will move readers from simply learning about CI to having the confidence to jump in and teach using these methods.
Read more about Essential CI Tools for Your Classroom.
Teaching with Comprehensible Input Strategies
In The Big CI Book, you'll find the information you need to incorporate teaching with comprehensible input into your classroom. The author groups the content into skills, strategies, classroom management tools and assessment tools. You'll find, however, that all these resources reinforce each other and together build an understanding of how to effectively create comprehensible input.
Comprehensible Input Teaching Skills
The skills section includes excellent explanations of 14 essential CI techniques. From the fundamental skills of Circling and PQA to super simple techniques like Almost! and Comparing Colors, you'll learn the how and why of providing comprehensible input.
Comprehensible Input Strategies
These 27 strategies are the backbone of setting the stage for language acquisition using comprehensible input. You may be familiar with TPR, One Word Images, MovieTalk and Sentence Frames, but you will definitely find new ideas, too. I particularly appreciated Strategy #15 – Reading Strategies. This is not one, but rather a collection of strategies for reading in the CI classroom.
What makes The Big CI Book especially valuable is that it is much more than a list with a few lines of explanation. There are detailed discussions of the strategies with specific how-to explanations. In addition, CI experts answer questions and address the practical implementation in the classrooms.
Classroom Management
Classroom management can be a challenge in any class, and having a plan is essential. The author shares his classroom rules and gives detailed explanations of how he implements them. This section of the book is gold!
Assessment Tools
Formative assessment and comprehension-based instruction are a perfect match. With that in mind, the author presents teachers with 3 tools to assess learning. He explains quick quizzes, an interpersonal skills rubric and comprehension checks, with a helpful discussion of the advantages and drawbacks of each.
Bail Out Moves
Finally, The Big CI Book leaves us with Bail Out Moves for those inevitable moments when we don't know what to do.  Not everything we do in class works, and that is okay, as long as we know how to stop and do something else. This set of activities will save the day when things aren't going well.
One of the things I like most about this book is how realistic it is. It's not pretentious, nor does it suggest that teaching a language is easy. Rather, it encourages us to connect with our students and take joy in the process. If that is what you're looking for, and you want to do it using comprehensible input, The Big CI Book is for you.
This post is sponsored by the publisher and I have been compensated for my time to write the review. All content and opinions are my own.