As teachers, we set the stage for language acquisition by providing comprehensible input. Techniques that expose learners to comprehensible input should be central to all language classrooms because they work. That is how students acquire language.
Odds are that you are already providing comprehensible input. Do you present vocabulary using objects and pictures rather than translation? Do you use TPR and act out verbs? Both techniques create comprehensible input. However you use CI now, I encourage you to do more. I promise you will never regret it!
There are many comprehensible input techniques, and you can pick and choose the ones that work for you. If you're intimidated by what you've heard about storytelling, rest assured there are other options.
Whatever strategies you choose, providing comprehensible input does have to be both intentional and spontaneous. You'll find that is much easier to achieve with the right tools.
Comprehensible Input Tools
We all know good materials make teaching easier, so you may wonder what tools will help you expose learners to comprehensible input.
First, know that you have the single most important thing: your ability to communicate the meaning of the target language. In addition, I'm going to assume you have a board to write and draw on. Although you can use many CI strategies with just a board, these key materials will make your task much easier.
Comprehensible Input Resource Book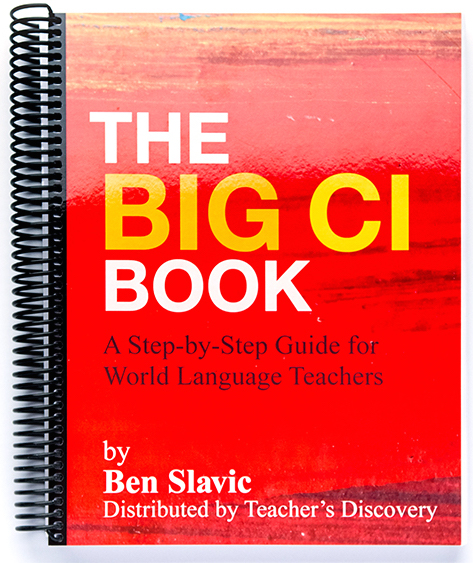 As I mentioned, there are lots of CI strategies and techniques. In fact, there are so many that you'll have a hard time remembering them all. You can and should use blogs, but becoming familiar with a single quality resource and having it on hand will save you significant time.
The Big CI Book by CI guru Ben Slavic is an excellent choice. It gives you background, lots of strategies and activities, and tips for classroom management. Clear, specific and readable, The Big CI Book is a complete resource to get you started and keep you going.  The Big CI Book is available from Teacher's Discovery.
Posters to Support Comprehensible Input

Your wall space is valuable! You can provide support for comprehension by displaying posters with language you and students use on a regular basis. A good set of posters helps everyone stay in the target language.
For example, you can hang posters with questions like ¿Puedo ir al baño?, ¿Puedo tomar agua?, ¿Cómo se dice…"?, and ¿Qué quiere decir…en inglés?
You can also display posters with conjunctions, prepositions, question words, and high-frequency verbs. Point to the posters as you use the language, so there is no need to translate or teach those words. Posters also support speaking and writing tasks, making communication more fluid and students more independent.
You can make your own posters or buy them online. Either way, they are worth the investment!
Pictures to Create Context

With a photo or illustration, you have content to discuss and creating comprehensible input is much easier. Simply pointing to parts of a picture, you can often make the meaning of language clear.
I have a collection of photos that I add to all the time. I try to select interesting pictures that clearly represent the structures I'm targeting.
You can see examples of photos I have used in this Facebook photo album.  They are all from Spanish-speaking countries. As you'll see, they tend to have one clear subject and lend themselves to specific target structures.
Video
Video is another valuable tool for creating comprehensible input. Finding video takes work, so consider joining CI groups on Facebook where you'll find lots of good suggestions.
You'll want to compile two different kinds of videos. The first are video clips to use without sound that provide a context for you to create comprehensible input. You'll want interesting video clips that clearly communicate your target structures.
You have probably heard of movie talk, which involves narrating the video in comprehensible language, pointing to the images and asking questions. Because the sound is off, the original language of the video doesn't matter. You're looking for situations and actions you can narrate using the structures you are targeting.
You'll also want comprehensible videos in the target language, so that students hear other voices and you get a break from providing all the comprehensible input. Consider videos designed specifically for Spanish learners, like the Buena gente series or these Spanish conversations.
It takes some work, but you can also find authentic commercials and clips from movies and TV shows with enough context to make them comprehensible for Spanish learners. Again, look for recommendations in online groups and remember you can slow down the speed of the audio.
Comprehensible Readings
In addition to hearing language they understand, students need to be exposed to lots of comprehensible input through reading. You can create your own readings based on your target structures and student-generated stories, but having a collection of comprehensible readings makes your job easier.
These readings will give you content to work with in class beyond the input you provide. There are many comprehensible input readings available now, so it is a matter of choosing the level and the reading that are right for you and your students.
These leveled Spanish readers are a good example of comprehensible novels, and you can find more texts online with a search for comprehensible Spanish readers.
Props 
A big part of creating comprehensible input is acting things out, and it is easier and more fun with a few props.
Props do not have to be new or complicated. Check out garage sales and thrift stores. Clothes and accessories like hats and jewelry work well. You can print props, too. I have a great printed policeman's hat and badge that have lasted for years.
Toys, including stuffed animals, are also useful. And objects like plastic plates and cups, boxes, and balls are versatile and can represent many things.
You can keep it simple, but it's definitely worth adding props to class. You'll be surprised how they support comprehension and make acting things out more fun.
A Creative, Engaged Mind
You might not think your own mind counts as a tool, but it is the most important thing you bring to class.
As I mentioned, creating comprehensible input requires you to be intentional and spontaneous at the same time. You need to have your goals and strategies present and then be fully engaged with students, so you can adjust, add more support, provide more input, and keep the learning going.
The discussions of how to expose students to comprehensible input can be intimidating, but it all comes down to setting the stage for language acquisition.
Students learn when they are exposed to comprehensible input, and you can make that happen in countless ways. Draw on these tools and bring more comprehensible input into your class.