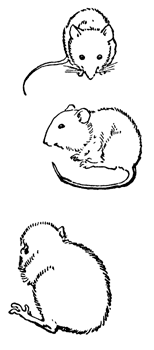 Rhymes and songs are a wonderful way for children to produce Spanish.  The rhythm and rhyme help them pronounce the words. Also, reciting rhymes or singing they produce grammatically correct sentences. They learn Spanish structures and lots of vocabulary, and they have fun!
Cinco ratoncitos is a traditional rhyme that is used for choosing (like Eeny, Meeny, Miny, Moe). One child points to the others as she says the rhyme. The child that she lands on as she says "ratón" is eliminated.  You can hear Cinco ratoncitos said as a choosing rhyme by clicking here.
Cinco ratoncitos
de colita gris
mueven las orejas,
mueven la naríz.
¡Uno, dos, tres, cuatro, cinco,
corren al rincón!
Porque viene el gato,
a comer ratón.
Five little mice
with little gray tails
move their ears,
move their noses.
One, two, three, four, five,
they run to the corner!
Because the cat is coming
to eat mouse!
Cinco ratoncitos is also sung as a finger-play. Below is a great video of a little girl singing and doing the actions.  A description of the actions follows the video.
Cinco ratoncitos
Five little mice     (Wave your fingers.)
de colita gris
with little gray tails     (Wave your fingers behind you.)
mueven las orejas,
move their ears,     (Hold your ears and move them.)
mueven la naríz.
move their noses.     (Pinch the end of your nose and move it.)
¡Uno, dos, tres, cuatro, cinco,
One, two, three, four, five,     (Count your fingers.)
corren al rincón!
they run to the corner!    (Put your fingers behind your back.)
Porque viene el gato,
Because the cat is coming
a comer ratón.
to eat mouse.     (Open and close your hand, or mouth, to show the cat trying to chomp a mouse.)