I've been teaching for 30 years and have been lucky enough to see amazing changes in language education. We have moved to communicative instruction based on comprehensible input, and with technology we now have unlimited authentic resources. Nuestra historia, a CI curriculum for Spanish, reflects these changes and what is best in language teaching today.
Top educators, with years of comprehensible input teaching experience, came together to create Nuestra historia, a complete CI curriculum for Spanish.
Many well respected CI teachers contributed to this program. For example, there are original videos by Señor Jordan (Jeremy Jordan) and Profe Loco (Kyle Carr). In addition, Sra. Shaw (Jen Shaw) wrote the performance tasks and assessments.
Drawing on the expertise of these top teachers and others, Voces Digital has published a rich, highly teachable CI curriculum.
Also, see our list of resources with Spanish lesson plans and elementary Spanish curriculum reviews.
I'll highlight key features, but I encourage you to discover Nuestra historia for yourself and sign up for a free trial.
CI Curriculum for Spanish- Key Features
Comprehensible Input Made Easy
As a CI curriculum for Spanish, all the content of Nuestra historia is comprehensible input. It is packed with carefully designed materials for reading, listening and viewing. With these resources, teachers can maximize input and make the most of valuable class time.  And as we know, more exposure to comprehensible language means more learning.
Nuestra historia makes it easy to engage students with content they understand and also builds in essential repetition. I can honestly say Nuestra historia takes the work out of CI instruction!
High-Frequency Structures
All the content of Nuestra historia  – stories, videos, articles and more – builds on high-frequency words and phrases. This means students develop comprehension skills and acquire the language they need to communicate real-world information.
Students need repeated exposure to these high-frequency structures, so Nuestra historia incorporates essential repetition. The stories, videos, activities, and authentic resources all reinforce the target structures for each unit. These materials make it easy for teachers to be consistent and effective.
Engaging Stories
Stories are the heart of the Nuestra historia curriculum, because comprehensible stories are the best way to learn and retain language.
Each unit has four short and two longer stories narrated by native speakers. In addition, each story has a variety of comprehension, writing and speaking activities to reinforce the high-frequency structures.
The stories in Nuestra historia teach the target structures, and in addition, they are interesting. They highlight aspects of the Spanish-speaking world and give students insight into different countries and cultures.
Culture and AP Theme Alignment
Culture is central to the content of Nuestra historia. In each unit, a wealth of materials builds global awareness as well as reinforcing high-frequency language. Through articles, biographies, photographs and interviews, students learn about cultures and individuals as they work with target structures.
In addition, carefully selected authentic resources connect students to the Spanish-speaking world and its everyday language. Students interact with authentic materials, from infographics to videos, always with the support they need be successful.
The curriculum aligns with AP® themes, and students explore the AP® sub-themes of Education, Beauty, Pastimes, Technology, World Populations, and National Identity as they relate to Spanish-speaking countries.
Web-Based, Customizable CI Curriculum for Spanish
I love that every component of Nuestra historia is available online, in one place. This lets us make the most of the materials, because we can find and access them easily. This is a huge time-saver!
In addition, Nuestra historia is fully customizable. With options to choose what students see, edit pages or create your own, and personalize class stories, you can make Nuestra historia fit your needs and your teaching style.
Technology alone doesn't teach, but it can make teaching more effective. Nuestra historia takes advantage of what technology does best – free up teachers to teach great material and give them the support they need to do it well.
Teacher Support
Another feature that makes Nuestra historia particularly effective is the explicit support it provides for CI teaching strategies.
CI is still new to many instructors, so the teacher-authors give clear indications of how they would teach the material as comprehensible input. For example, for the class stories, they provide gestures to present new vocabulary, editable story scripts, and PQA (personalized questions and answers).
For the videos, there are detailed pre-viewing, while-viewing and post-viewing questions and activities.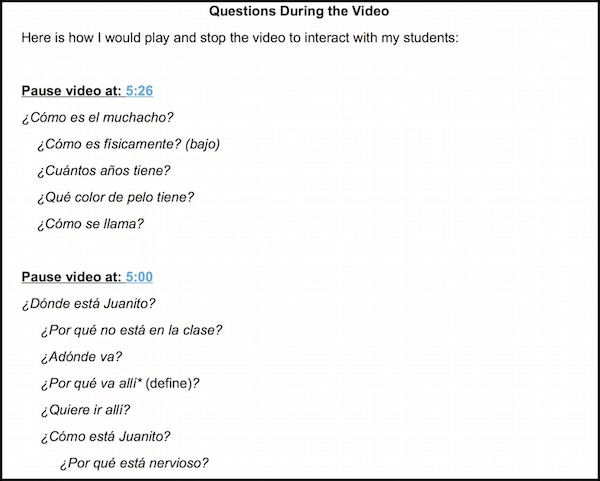 You will teach the Nuestra historia content your way, but the concrete support makes it much easier and saves valuable preparation time.
Nuestra Historia CI Curriculum for Spanish
This CI curriculum for Spanish is part of a new generation of teaching materials. Nuestra historia takes fundamental principles of language acquisition and builds on them to create an engaging, effective classroom experience. In addition, Nuestra historia provides the support teachers need to use CI teaching easily and effectively. With Nuestra historia, students understand what they hear and read.  And when they understand, they learn.
Disclosure: The company provided access to the product so I could write an honest review and I was compensated for my time. All of the ideas and opinions are my own.