I love apple activities in Spanish. For my classes, apples fit perfectly into a more general fall theme. Below you'll find some of my favorite apple activities for different levels.
Here in Wisconsin, we grow lots of apples, so kids learn a lot about them. For that reason, it's an excellent theme for language learning because they hear familiar information in the new language. I can also adapt apple activities in Spanish to provide rich content from preschool through the early grades.
Apple Videos in Spanish
This Habla Pamela video is perfect for my students because it is very clear and the images make the language easy to understand. Also, there is lots of repetition of the useful verb quiero, and at the end it introduces has the fun cultural element of putting powdered chile on fruit.
You can find more fun YouTuber style videos with activities and transcripts on our Kids Learn Spanish videos page.
Spanish Apple Activities with Real Apples or Manipulatives
One of the things I like most about apple activities in Spanish is that you can use real apples. Even with a large class, they are relatively inexpensive. Of course, you can make due with 10 apples for a group if need be.
If you don't want to use real apples, you can get cute apple counters on Amazon, and I have this set of small artificial apples the kids love.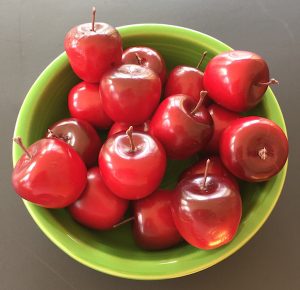 I also have a big paper apple tree that I made years ago and covered with contact paper. It's getting a little worn out, but it is perfect for adding hojas, manzanas and even gatos! I use double-sided tape and the kids love being able to pick the apples and put them back on.
I use real apples or manipulatives for
Counting activities
Sorting by color
Hiding activities
Pattern activities
Balancing (real apples)
Telling stories – I use beanie animals to tell all kind of stories. In the fall, they often involve apples.
Apple Songs in Spanish
With my preschoolers, kinders and first graders, I always sing ¿Cuántas manzanas hay? from Spanish Together. It is the perfect song to teach ¿Cuántas hay? and numbers.  So, we sing and count with real apples, or with our apple tree.
There are other apple songs in Spanish, although many have too much vocabulary for my language learners. For example, this song, Tengo una manzana is cute, and I have used just the chorus with some groups.
Printable Apple Activities in Spanish
At all levels, one of the apple activities in Spanish we do is talk about the different parts of the fruit. I teach 6 basic parts, using common Spanish words: la semilla, la carne, la piel, el corazón, la hoja, el tallo.
Of course, the best part of learning the parts of the apple in Spanish is cutting them in half, identifying the features and then eating them!
Parts of the Apple in Spanish
I use this cut-and-glue printable to label the parts of the apple in Spanish. I would love to have kids make their own labels, but unfortunately our class time is short. Get the PDF here: Parts of the Apple in Spanish.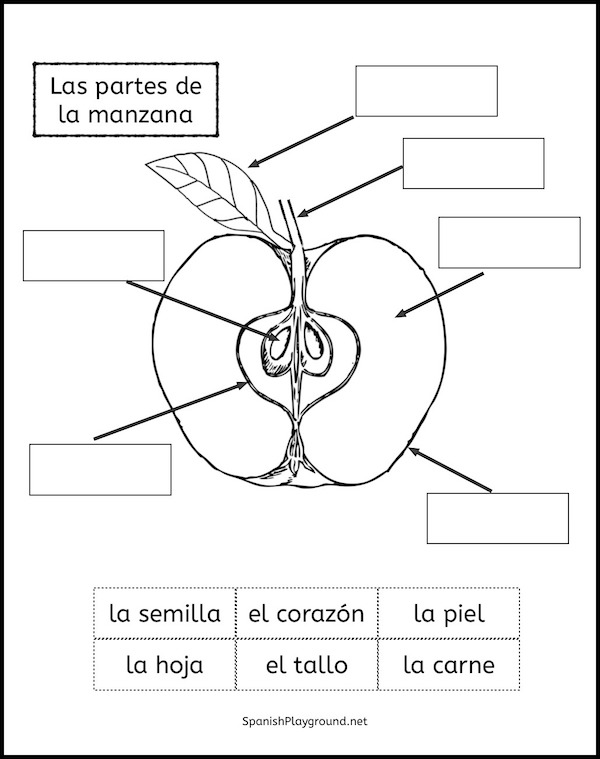 We also do sentence building activities with Las manzanas tienen… and Las manzanas son…
Syllable Count with Spanish Apple Words
We also do a syllable count with words related to apples. Get the PDF here: Syllable Count with Spanish Apple Words.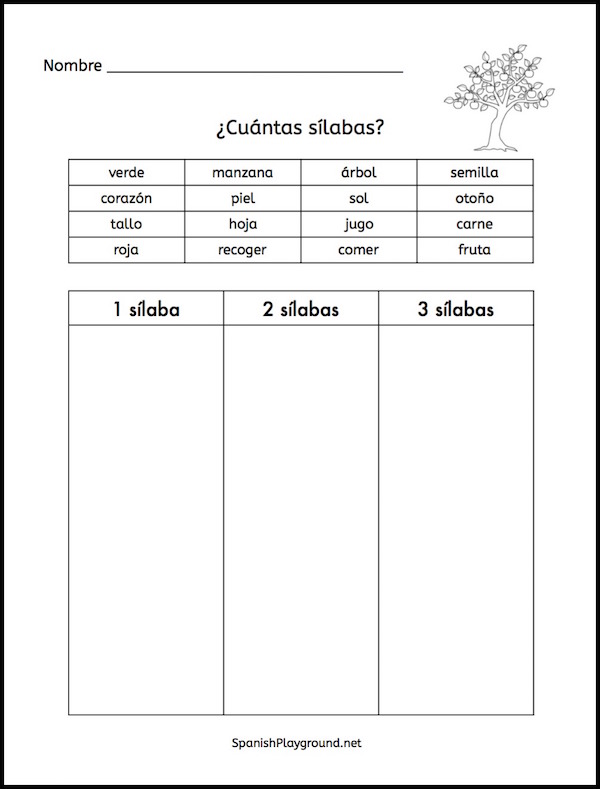 Also, there are many free apple-themed printable materials online that you can use in any language. I have found them for counting, patterns and other activities.
Apple Crafts in Spanish for Preschoolers
I do craft activities to reinforce language and give parents a way to speak Spanish with their kids at home. Because my class time is short, with my preschoolers, the activities are usually gluing and coloring.
Download the ¿Cuántas manzanas hay? PDF here.
Download the coloring sheet with an apple tree, dog and cat here.
We were adding calabazas in the coloring sheet in class, but I also use it to practice sentences like ¿Dónde está el árbol? ¿Ves el perro? ¿Dónde está el gato? and ¿Cuántas manzanas hay?.

Spanish Books about Apples
I made a PDF book called ¿Qué hay en un árbol? to practice high-frequency vocabulary and the verb hay. It is not only about apples, but I read it when I do an apple theme. You can download the free PDF here: Easy Spanish PDF Books for Kids.
I also read Ana cultiva manzanas. It's a bilingual book and has lots of the vocabulary we learn in class.
For the Love of Spanish has a great post with more Spanish apple books and activities including a free printable book.
What are your favorite activities to do in the fall? Do you use apple activities in Spanish class? Let us know what works for you!