Talking about animals in Spanish introduces children to a lot of language. Learning about animals, children hear common Spanish verbs, descriptive words and vocabulary for the natural world. Of course, kids love animals, so they also enjoy activities and books related to them.
Try these ideas for teaching children language related to wild animals in Spanish. These suggestions are part of the Easy Spanish-Easy Yoga series. You can find more information about the series at the end of the post.
Songs about Wild Animals in Spanish
There are lots of songs in Spanish about wild animals and going to the zoo. Some are based on English songs that kids may already know. Here are a couple that work well with children learning Spanish.
Vamos al zoológico by Jorge Embon is very fun to sing and the words are on the screen.
En el zoo also has the lyrics on the screen. Kids act out the animals as they sing.
Yoga
Yoga in Spanish is fun, active language learning. Yoga poses are associated with animals and actions, so kids are acting out animal words in Spanish.
Kids Yoga Stories has a post on animal yoga. There is focus yoga flow with three poses that represent these animals: sheep dog – perro ovejero, lion – león, turtle – tortuga. See the post on Kids Yoga Stories for how to do the poses. As you flow through the poses, say the words in Spanish.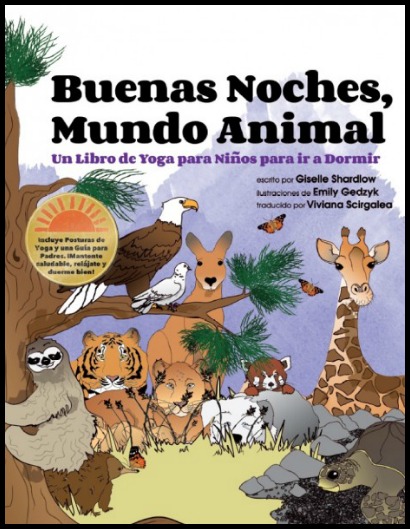 Kids Yoga Stories also has wonderful wild animal picture book in Spanish. Buenas noches mundo animal is a story with yoga poses woven into the narrative. Children do the poses as they listen to the story. This is a great book to read aloud with if you are talking about animals in Spanish! Buenas noches Mundo Animal is available on Amazon and on the Kids Yoga Stories website.
Crafts

Crafts are always a hit with kids. They provide lots of opportunity to talk and use words for wild animals in Spanish.There are thousands of animal crafts online for all ages.
One of my favorites for little ones are these wild animal pet rocks from U Create. There is a free printable to make a monkey, a zebra, an elephant and a lion. You can talk about the animals in Spanish and also body parts and colors. They are easy to make and really cute!
Cards with Animals in Spanish

Picture cards are great for games of all kinds, from memory to hiding games. I made a set of black and white animal picture cards that I use for lots of activities.
Digital Publications

There are digital publications about animals in Spanish on Issuu. This one, Los animales salvajes, has photos with the animal names first and then sentences that describe the photos.
There are also previews from publishing houses, like this book from Bamboo called Un sonido ¡Animal!  Often a preview like this is enough for Spanish learners. This one has activities in the back.
Photos: Datos curiosos y Animal del día from Discovery en español
In this Facebook album look for the photos labeled Animal del día and Dato curioso. The captions have a sentence with information about the photos. They are great for Spanish learners!
Here is an example of one of their photos with the caption: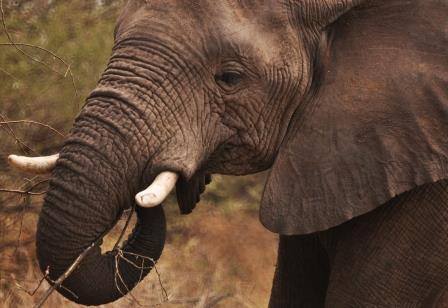 -->