Mother's Day is an opportunity to celebrate moms and also to talk about family, emotions and daily routines with language learners. Below you will find a variety of Spanish Mother's Day activities.
Traditional Spanish Mother's Day activities like making cards or writing poems are based around language. Kids can write, illustrate what they write and practice reading their cards aloud. Singing songs and making gifts or decorations are also fun Spanish Mother's Day activities.
Spanish Mother's Day Activities – Cards
Spanish Sayings for Cards
One of the best gifts are cards that kids make themselves. These Spanish sayings for Mother's Day will give kids some ideas and they can combine sayings and personalize what they write. There is a printable list to make it extra easy.
Printable Cards
Websites with cards to print and other Spanish Mother's Day activities are a useful resource. Take a look at these cards and a video story. Check out these printable Mother's Day cards too.
More Printable Spanish Mother's Day Activities
My Mom Likes… – A Speaking or Writing Activity
This activity with gustar can be used with kids to help them talk or write about mom.
Printable Bracelets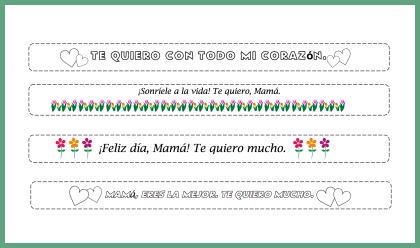 These bracelets are perfect Spanish Mother's Day activities for early Spanish learners. There are four designs and two are black and white for kids to color.
Printable Subway Art

This subway art is a fun way to engage kids with text. It's a perfect activity for kids who love to color.
Spanish Mother's Day Songs
Songs are one of my favorite Spanish Mother's Day activities. Kids can learn a song and sing to mom. If you take a video, Mom will be able to listen again and again.
Music with Sara has a very sweet song called Mamá te quiero mucho. There is a picture book to go with the song for extra Spanish learning.
This song, Yo solito Mamá, is in the form of a dialog. It is about a child learning to do things by herself and has a lot of vocabulary that Spanish learners will recognize.
Mariana Iranzi also has a pretty song for Mother's Day called Feliz Día Mamá.
Spanish Mother's Day Video
This YouTuber-style video is all about what moms do for kids and typical gifts for Día de la Madre. You can find a transcript and listening comprehension questions here.